Over to the moon
Prof Paul Singh
Till date, we have heard about the beauty, serenity, and tranquility of moon in the reel life only but now, in reality, we are going to get a lot of information regarding the surface and minerals on the moon. With successful launch of Chandrayaan-I at the head of the four-stage Indian built space vehicle, the Polar Satellite Launch Vehicle (PSLV), India joins the elite lunar club (US, Russia, Japan, China and European Space Agency) of space-faring nations.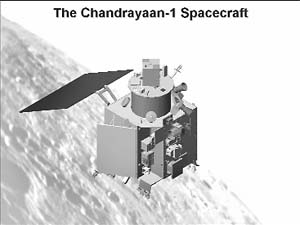 According to G. Madha-van Nair, Chairman, ISRO, in addition to upgrading India's technological competence and providing challenging opportunities for planetary research to the younger generation, this mission would provide immense impetus to science and technology in India. The mission is aimed at two primary objectives:
i) Goal of harnessing the science payloads, lunar craft and the launch vehicle with suitable ground support systems, including Deep Space Station (DSN).ii) Integration and testing, launching and achieving lunar polar orbit of about 100 km, in-orbit operation of experiments, communication, telemetry data reception, quick look data and archival for scientific utilisation.
Once the spacecraft is put in the assigned orbit, it would be in a position to have high-resolution remote sensing of the moon in visible, near infrared (NIR), low energy X-rays and high-energy X-ray regions with specific objectives, which follow as:
i) Preparing a three-dimensional atlas of both near and far side of
the moon.
ii) Chemical and mineralogical mapping of the entire lunar surface for elements such as Magnesium, Aluminum, Silicon, Calcium, Iron and Titanium; and high atomic number elements such as Radon, Uranium & Thorium.
iii) The availability of water on the moon for settling of humans in near future.
iv) The abundance of helium, used as fuel in nuclear fusion reactors, is yet another attraction to probe the moon. This is an area which needs to be pursued seriously for the mining of helium and ferrying it to the earth for power generation to meet the growing needs.
Chandrayaan-I is a spacecraft of cuboid shape of approximately 1.50 m side. It weighs 1304 kg at launch and would reduce to 590 kg when set in lunar orbit. It carries 11 scientific payloads on board i.e. six Indian and five from the US, Sweden, Japan, Germany and Bulgaria.
It is a 3-axis stabilised spacecraft using two star sensors, gyros and four reaction wheels.
The Indian Space Research Organization (ISRO) has built its Polar Satellite Launch Vehicle (PSLV) in the early 90s. Besides the launching of many Indian satellites, PSLV has also launched four satellites from abroad such as TUBSAT and DLR-Bird from Germany, Proba from Belgium and KITSAT from Republic of Korea.
Its reliability and maturity has made it fit for the first lunar mission. The upgraded version of PSLV viz., PSLV-C11 with a liftoff weight of 316 tonnes, is used to inject 1304 kg mass spacecraft at 240 x 24,000 km orbit around earth and the corresponding spacecraft mass is 590kg when the target lunar orbit of 100 km is achieved.
The power required during all phases of the mission would be provided through a canted single-sided solar array.
This deployable solar array consisting of a single panel generates 700W of peak power.
In case of emergency like during solar eclipse, spacecraft will be powered by Lithium ion (Li-Ion) batteries.
The spacecraft is also fitted with an X-band, 0.7m diameter parabolic antenna for payload data transmission to the ground station.
The spacecraft would make use of a bipropellant integrated propulsion system to reach lunar orbit and also for maintenance of altitude while orbiting the moon.
The system carries sufficient propellant for a mission life of 2 years, with adequate margin.
Chandrayaan-I is carrying scientific payloads which includes indigenously developed and some from international scientific arena. The indigenously developed payloads/ experiments are:
(i)The Terrain Mapping Stereo Camera (TMC) in the panchromatic band, having 5 m spatial resolution and 20 km swath, to take photographs of moon surface. (ii)The Lunar Laser Ranging Instrument (LLRI) having a height resolution of about 10m to measure the heights of mountains. (iii)The Moon Impact Probe (MIP) which will strike at the surface of the moon and will put Indian flag on the surface. (iv) The Hyper Spectral Imaging camera (HYSI) operating in 400-950nm band with a spectral resolution of 15nm and spatial resolution of 80m and a swath of 20km. (v) High Energy X-ray spectrometer (HEX) using Cadmium-Zinc-Telluride (CdZnTe) detector in the 30-250 keV energy regions with spatial resolution of 40km.
The ISRO has solicited proposals through an Announcement of Opportunity (AO) from International and Indian Scientific Community for participating in the mission by providing suitable scientific payloads.
After the successful launch of the Rs.3800-million Chandrayaan-I mission, ISRO is intending for more ambitious space projects in the years to come including landing a robot on the lunar surface and launching the Indian spacecrafts to other planets of the solar system.
The Lunar mission is a right step towards the exploration of outer space. To realize it, India and Russia have signed a Memorandum of Understanding for joint development of lunar rover and robotic arms to be used in the Chandrayaan-2 mission sometime scheduled for launch during 2011-12.
The writer is Professor of Physics, Dept. of Chemistry & Physics, CCS HAU, Hisar.