M A I N N E W S
Asia prepares, keeps $80b in kitty
Beijing, October 24
Asian nations today recommitted themselves to establishing an $80 billion emergency fund, as leaders from across Asia and Europe gathered in Beijing to discuss the global financial meltdown.
The pledge by South Korea, China, Japan and the 10-country Association of Southeast Asian Nations was reached at a breakfast meeting, according to the office of South Korean President Lee Myung-bak, who attended the meeting.
Few details were given, although a preliminary agreement reached in May stated that Japan, South Korea and China would contribute 80 per cent of the fund, to be set up by next June, with ASEAN countries covering the remainder. ASEAN consists of Brunei, Cambodia, Indonesia, Laos, Malaysia, Myanmar, the Philippines, Singapore, Thailand and Vietnam.
The deal will enable countries to borrow from the fund when facing a liquidity crunch.
It builds on the so-called Chiang Mai Initiative, in which the 13 nations set up bilateral contracts to supply funds through currency swap lines.
The summit of 43 Asian and European nations hopes to establish a consensus on a common approach to the global crisis.
The meltdown has injected a new sense of urgency into the normally plodding biennial Asia-Europe meeting, known as ASEM, with EU Commission President Jose Barroso saying "unprecedented levels of global coordination" are needed to deal with the crisis.
"It's very simple, we swim together, or we sink together," Barroso said at a news conference yesterday in Beijing ahead of meetings with top Chinese leaders. — AP
Banks suffered modest losses, system stable: RBI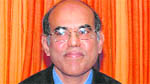 RBI Governor D Subbarao
After his first review of monetary policy, Reserve Bank Governor D Subbarao on Friday asserted that Indian financial system was stable and healthy and said domestic banks had suffered some mark-to-market losses on account of exposure in foreign assets. "Indian banks do not have direct financial exposure to the US sub-prime assets. Foreign subsidiary and foreign branches of Indian banks have suffered some mark-to-market losses on financial instruments due to the widening of credit spreads," he told reporters after the mid-term review of the annual monetary policy.
¶ Rupee breaches 50 mark: The Indian rupee breached the historic 50-mark against a US dollar in intra-day on sustained demand for the greenback amid the American currency's sharp rise against its major rivals in overseas markets. The domestic currency later closed the day a little lower at 49.95/96 after suspected intervention by the RBI.
¶ US stocks dive: Wall Street is joining world stock markets in a precipitous plunge, with the Dow Jones industrials dropping more than 400 points in the opening minutes of trading. The Dow was down 444 at the 8,251 level. Trading was halted three times as the index heated up. All the major indexes were down more than 4 per cent.
¶ Nikkei faces low-five: The Nikkei average slid 4.9% and fell at one point to its lowest level in over five years, as Sony Corp tumbled on a profit warning, dragging other exporters lower as worries about their earnings grew.