THIS ABOVE ALL
Never lose heart in distress
Khushwant Singh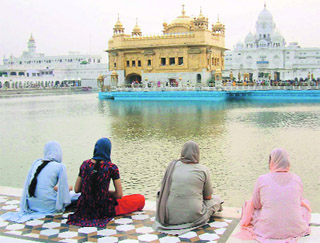 The Lord is the protector. We should have faith in Him and always remain happy.


Surjit Kaur, who is in hospital in Washington DC, is being treated for cancer. She has written to me asking me to pray for her. Though a notorious non-believer, I respect other people's faiths and the power of prayer for those who believe in it. She had been earlier undergoing surgery for breast cancer. She refused to have it lopped off and overcame it by a small incision, helped by a fervent prayer. It was a minor miracle. She was back to work, and, as usual, visited her homeland every winter to pay homage at the Golden Temple and other gurdwaras.
Though living in the US for the past 30 years as an American citizen, her heart remained in India and she planned to return. She built a house in Zirakpur, near Chandigarh, where she intended to retire. Cancer has now infected her pancreas and is spreading. She has undergone surgery and chemotherapy, and is being given radiation. She is again praying for help.
I have known Surjit Kaur for many years. Her role model was her father, Professor Jodh Singh. She doted on him and became a devout Sikh as he was. When I was on a three-month scholarship at Wilson Centre, I had her assist me update my History of the Sikhs by getting material in Gurmukhi from the Library of Congress. She would collect the relevant material, and on her way back home in Sterling drop it in my apartment in Arlington.
She often cooked me an Indian meal, had a drink with me before she ordered a taxi to take her home. Sunday mornings she spent at the gurdwara in Washington. She knew most members of her community and wrote a book, Among the Sikhs (Roli), which was released in my home in Delhi by Dr Manmohan Singh.
How did I respond to Surjit's call to pray for her? I could think of nothing better than write back the original of a hymn which is probably the most widely used by Sikhs seeking divine help. Note the entirely Hindu terminology used by the Guru, who also claimed that Sikhs were neither Hindus nor Muslims but a community apart. I adduce a free translation of the hymn:
Taatee vaa na laagayee;
Parbrahma sharnaee;
Chugird hamaarey Raam kar;
Dukh lagey na bhai
(No evil winds will harm you. God is your refuge and helper. On all four sides, He has drawn Rama's protective lines. No sorrows will afflict you, brother).
Satguru poora bheytia;
Jin banat banaee;
Raam naam aukhad diya;
Eka liv laee
(The true Guru is manifest in all things created. You will find the name of Rama is the antidote of all ills. Keep Him in mind).
Raakh lea tin rakhan haar;
Sab biaed mitaaee;
Kaho Nanak kirpa bhaee;
Prabhu bhaey sahaaee
(He protects those who deserve protection. Of all problems, He is the solver. He is merciful, says Nanak. He has become your helper).
When in distress, we should never lose heart. Always remain happy and in top spirits. This is to wish you quick recovery, Surjit Kaur.
Eight is great
Strangely but truly, digit eight has played a great role in the completion of the Indo-US nuclear deal as evidenced by the following facts: Communists withdrew their support to the UPA Government on July 8. This happened when Prime Minister Manmohan Singh was attending the G-8 Summit in Japan. The total number of persons who represented the CPM, the CPI, the Forward Bloc and other parties in the talks over the nuclear deal with the UPA Government was eight. The number of nuclear reactors which India has declined to open to the IAEA for inspection is eight. President George W. Bush signed on the deal legislation on October 8.
(Contributed by KJS Ahluwalia, Amritsar)
Naval and novel encounters
A retired Admiral entered the TV room of a Defence Services Club to listen to the BBC news. Instead, he saw youngsters watching a dance number on MTV, which was a mixed-grill combo of salsa, lambada, samba, grind and Nach Baliye. He watched the erotic movements of the gyrating bodies of dancers, with their midriffs almost touching.
Finally, on seeing the horrendous act of pelvic thrusts (Rakhi jhatka in the lingo of Bachi Karkaria), the veteran military historian left the TV room aghast with his expert comments: "In my entire naval service, this is the first time I have witnessed a navel encounter where no sailors are lost. Another novel encounter in which men in uniform participate but do not get killed are the much publicised, bold and (in)famous police encounters (fake).
(Courtesy: Colonel Trilok Mehrotra, New Delhi)