King of runs
The Master Blaster has braved many odds and injuries to achieve the twin milestones of being the highest scorer in both Test and one-day cricket, writes Abhijit Chatterjee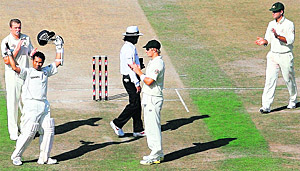 Sachin is applauded by Australian cricketers Peter Siddle (left), Shane Watson (centre) and captain Ricky Ponting (right) after becoming the leading run-scorer in Test match cricket history during the first day of the second Test match between India and Australia at PCA stadium in Mohali on October 17. Tendulkar crossed Brian Laraís tally of 11,953 runs from 131 Tests. Photos AFP

When Sachin Tendulkar crossed the 12,000-run mark in Test cricket during the Mohali Test against Australia, Krish Srikkanth, chairman of the national selection committee, said the Master Blaster should now aim to represent the country in the next World Cup, which is over three years away. Srikkanth was the first Test captain under whom the 16-year-old Sachin debuted during the India tour of Pakistan in 1989.
The 12,000-plus runs in Test cricket (in 152 Test matches) is not the only record that the former Indian captain now holds. Sachin has become the highest run scorer in both Test cricket and one-day internationals (ODIs), and also the batsman with most centuries in both forms of the game. This is a record that will take a while to be overtaken, if it happens. Srikkanthís statement reflects the desire of many cricket fans of the country: that Sachin should keep on playing not only because he represents all that is good in Indian cricket but also because he carries the aspirations of millions of Indians, who have very few sporting heroes to look up to.
For this desire to be realised Sachin must be allowed his own pace and the option of picking the matches that he would like to play in. Over the years the continuous grind has taken a hard toll on his body. The dedication and drive is still there, and in abundance. However, itís his physical limitation that has and may prevent him from going on. His very presence on the field is an asset for the team. There may have been some lacunae in his innings as the captain of the team but his brain is a storehouse of various strategies about the game, which have been picked by successive captains every time he has donned the blue cap. Sachinís present form makes it doubtful whether any of the current batsmen will be able to overtake
his record of 12,000-plus Test runs.
The batsmen closest to this mammoth record are Indiaís Rahul Dravid at 10,341 runs from 127 games and Australian skipper Ricky Ponting at 10,246 runs from 121 Tests. But if one were to bet on who can overtake Sachinís record then Ponting would be the obvious choice as he still has a lot of cricket left in him.
Master of the game
Sachin trivia
Sachin Ramesh Tendulkar scored his 5000th run against Pakistan in the Asian Test Championship Tournament in February 1999 at Eden Gardens, Kolkata. Pakistan won the match by 17 runs.
He played his first World Cup match against England on February 22, 1992 at Perth. He scored 35 runs and was caught by wicket-keeper Stewart off Ian Botham. India lost the match by nine runs.
Sachin was awarded the Padma Shri in 1999. He received the award from President K R Narayanan.
Sachin, however, is showing no signs of having satisfied his appetite for runs.
Sachin has dominated all forms of the game, not only Test cricket and under all type of conditions ó right from his first tour of Pakistan, when circumstances there were far less conducive for the visiting Indian teams than they are today. He has scored runs in every cricketing country, on every kind of pitch and against a variety of bowling attacks. His supremacy extends from Test cricket to one-day to twenty20. He did not represent the country in the inaugural World Twenty20 Championship in South Africa. This was his own choice, because none of the Indian selectors would like him to miss any game, be it of any form.
Sachinís maiden Test century came during the England tour in August 1990 at Old Trafford and since then there has been no looking back. One feels that overtaking Brian Lara as the highest scorer in Test cricket may not have given him so much pleasure as did overtaking his one-time team-mate and mentor Sunil Gavaskarís record of 34 Test centuries (Sachin has notched up 39 so far) had given him.
Nine of his centuries have come against Australia, seven against Sri Lanka (even if he has had an indifferent series when India toured the island nation before the series against Australia) and six against England. He has scored three centuries each against Bangladesh, New Zealand, South Africa, West Indies and Zimbabwe while two of his centuries have come against Pakistan, where he has a massive fan following.
Sachinís batting shows a complete balance and poise while limiting unnecessary movements and flourishes. He appears to show little preference for the slow wickets, which are typical in India, and has scored many centuries on the hard, bouncy pitches in the Caribbean Islands and Australia. He is known for his unique punch style of hitting the ball over square. He is also renowned for his copybook straight drive, often completed with no follow-through.
Over the years Sachinís batting style has undergone a change. Earlier he used to go all out for the bowling and was not afraid to hit the ball all over the ground. It made the job of his rival captains all the more difficult because it was very hard to set a field for Sachin. The Master Blaster was told to open the batting at Auckland against New Zealand in 1994. He went on to make 82 runs off 49 balls. Since then he has remained an automatic choice for opening the Indian innings in one-dayers. He scored his first ODI century on September 9, 1994, against Australia in Sri Lanka at Colombo. It had taken him 79 ODIs to score a century. Since then he has gone on to score 42 centuries at an average of over 44.
Rough patches
Over the years life has indeed become tougher for Sachin. Various teams have used different tactics against him, trying to find at least one flaw in his batting. However, he has always overcome the challenge. His carefree strokes have become a thing of the past and he is now more intent on building up the innings, an image that an average cricket follower finds difficult to accept. Injuries, too, have taken a toll on his weary body and this has introduced a more cautious attitude to his batting. Though he still looks quite capable of scoring match-winning runs, Sachin does not tear the bowling apart like he used to do in his younger days.
In a country where cricketers are virtually worshipped and where idols like Kapil Dev and Sunil Gavaskar have played the game, Sachin has held two generations of Indians in awe and has become somewhat of a superhero with people willing to go any distance to see him perform.
In 2002, Wisden ranked him the second greatest Test batsman of all times, next only to Sir Donald Bradman, and the second greatest one-day international batsman of all times after Sir Viv Richards. But that was in 2002. Now one can be tempted to rank him as the best batsman, at least in one-day cricket, given the fact that the one-day game is not always batsman-friendly like it was in the days of Sir Viv Richards. Maybe a debate on the issue is called for, especially from those who have seen both the master batsmen at play.