Who's afraid of Rakhi Sawant
Her life is the story of a lower class woman breaking Bollywood's glass and class ceiling, writes Shakuntala Rao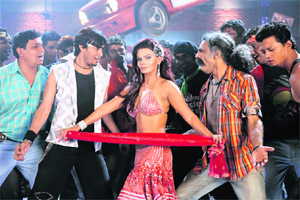 Rakhi Sawant performs an item number in Krazzy 4
Last season Karan Johar, the connoisseur of upper class cheeky modesty, announced the arrival of 'kachchra queen' (as a popular media pundit called her) Rakhi Sawant, as a guest on his show Koffee with Karan.
Often ridiculed by Karan Johar and his other guests, Rakhi Sawant's life is the quintessential story of the lower-class woman breaking Bollywood's glass and class ceiling.
Daughter of a street-level policeman, Sawant never finished school and had very little formal training in dancing or acting. She worked as a cabaret dancer before breaking on to the Bollywood scene with the emerging popularity of item numbers doing her first film practically in underwear in David Dhawan's Joru Ka Ghulam. Her success came with Bigg Boss and Nach Baliye reality shows and her lusty flamboyant approach, which garnered constant media attention. She often disregarded the cultural lakshman rekha, crossing it at every stage show, from Kathmandu to Kolhapur.
On Koffee with Karan, Rakhi Sawant's lower class sensibilities were at full display as she could barely speak a few words of English; in her Bambaiya dialect, littered with pedestrian references, Sawant described to Johar her working class ethos and growing up poor.
No neo-Marxist analysis is required to see how class-conscious Mumbai cinema has become. Times have changed from the days of Raj Kapoor for whom it was empathy towards the lower class coupled with a deep pessimism towards the wealthy that mattered. Awaara and Shree 420 were stories about the downtrodden struggling to survive on the footpaths of urban Bombay. We looked at the Bombay high-rise through their eyes.
In a media-saturated environment where our stars are rarely seen in public without their brand gadgets and luxury automobiles, the footpath dwellers are objects of ridicule rather than empathy. Most contemporary film stars, unlike in the days of Nargis and Madhubala, come from upper-middle class families. Many of them have studied in convents, private schools, or universities abroad.
Among them, Sawant stands out. She is, without a doubt, a fearless embodiment of lower-class vigour and determination. Alternately strip-teasing for the camera or doing Ganpati puja or chastising the media, Sawant rebukes the Bollywood establishment.
On her show, which debuted on Zoom TV this past summer, Sawant said to Aamir Khan without a blink of an eye, "When you married the second time, I didn't like it. I liked your first wife Reena more than Kiran." In the next episode, she asked Tusshar Kapoor to give her English lessons. In between, as she sat down to interview Deepika Padukone, she vocally chided Mallika Sherawat for refusing to appear on her show. There is no pretence or modesty here but sheer will to break all barriers. I am not sure how to read the Rakhi Sawant phenomenon but she is a phenomenon.
As we leave behind the heady days of Mumbai cinema where the likes of Guru Dutt, Bimal Roy, and Raj Kapoor successfully mixed working-class realism with feel-good fantasy, Sawant is kicking the door open one more time for the lower-class underdog — albeit in a negligee.