Amit Mishra casts a spell
Gopal Sharma
Unflappable. That's the quality that sets Amit Mishra apart. Overlooked for years despite being consistent in the domestic cricket, murmurs of lack of quality in domestic cricket notwithstanding, Mishra just kept going. He was chosen for the West Indies tour in 2002 and then for the 2003 tri-series in Dhaka when the regulars were rested after the World Cup, but he didn't leave a mark and was thrust into oblivion soon thereafter.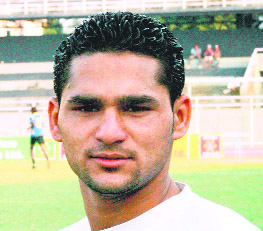 Winger with a flair
Vaibhav Sharma
Modern day football is about flair. The way you dangle and mesmerize defenders, with speed skill, ball control and feign a pass, play the perfect cross. In short, it's a wingers game. So when you hear the roar as JCT's Baljit Sahni walks on to the field, you know why he is the club's blue-eyed boy. The Mahilpur boy, who started with the JCT academy, has made the left wing position at the club his own. At just 21 years of age, the young boy is taking some giant strides.
Baljit Sahni has made an impact with JCT and is a first-team regular with the club Photo: Rajesh Bhambi

Ready to return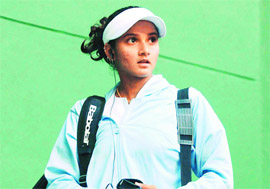 Amanpreet Singh
Forced to stay away from courts for almost half the season, a fit again Sania Mirza is eyeing a comeback at January's Classic tennis tournament in Hong Kong and revealed that she almost sunk into depression while struggling to recover from a wrist injury. The Indian ace is out of action since Beijing Olympics, where her wrist injury flared up again and she had to concede her first round singles match.
Sania Mirza will get back to the court in January with the Classic Tennis tournament in Hong Kong



Yellow submarine, Gunners on fire





The Champions League burst into life on Tuesday with 36 goals in eight matches, including 24 in just three games, to equal a competition record with Villarreal leading the goal fest thanks to a 6-3 victory over AaB Aalborg. Olympique Lyon beat Steaua Bucharest 5-3 in Romania while Arsenal thrashed Fenerbahce 5-2 in Turkey as the competition equalled a goalscoring record set on September 13 2000. Manchester United enjoyed a 3-0 win over Celtic. Alessandro Del Piero and Amauri gave Juventus a 2-1 win over Real Madrid. Zenit St Petersburg were held 1-1 by BATE Borisov and Bayern Munich beat Fiorentina 3-0. — Photo Reuters