Solitary reaper
Voice of the underprivileged Nafisa Ali believes she can make a difference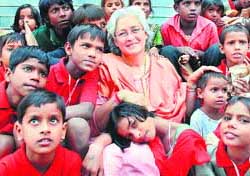 In times, when we see politicians and people resort to violence to drive home their point, this lady still abides by the ideology of Gandhi with conviction. And, she need not proclaim it in public or on any podium, as her actions speak not just loudly but virtually scream to substantiate her stand. So, today the whole country knows it—when a woman stages a dharna for farmers in Singur or for destitute people of the Narmada valley, it has to be none other than social activist Nafisa Ali.

Nafisa Ali enjoying with underprivileged children at a function organised at Punjab Kala Bhavan-16. Photo: Himanshu Mahajan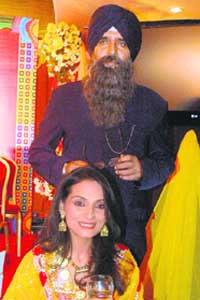 In His Raza
The man with the baritone voice is now ready for softer roles
Of course, we know who he is. And we don't have to scroll the repertoire to check his credentials. When the man with the trademark baritone is Raza Murad, the numerical data offered in the invite: 432 films, 28 Punjabi movies, honorable lecturer with the FTII, Pune, does not startle us. The actor is capable of all this and lot more. But, his absence from the limelight is something which makes us curious. No scaring pretty babes bathing on the gaon ka pond, no international calls for the delivery of guns. What's happened Raza Murad? And then we see him at Hotel Taj, Chandigarh, in a turban and a full-grown grey beard.



Rajeshwari Sachdev and Raza Murad. Photo: Parvesh Chauhan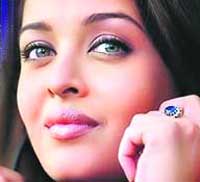 For your only eyes
Ash has another feather in her cap. The title for the sexiest eyes, while Gisele Bundchen has been voted as having the best legs and Charlize Theron the most sultry shoulders in US TV E!'s Sexiest Body Parts List
Aishwarya Rai, known as the world's most beautiful woman, has now walked away with another coveted title of having the 'sexiest eyes' in US TV E!'s Sexiest Body Parts List. Aishwarya's dazzling eyes have been voted the most sultry, beating the likes of Hollywood superstars Angelina Jolie, Megan Fox and Scarlett Johansson.



Fashion has a field day
First, the big stars took to the ramp. Then came the 'little' stars: the GenNext of B-town, from Sonam Kapoor to Sonakshi Sinha. But Day 4 of LFW had style walking in from another field: cricketer Sreesanth decided to play it out on stage

Bowler Sreesanth and bollywood actor Priyanka Chopra walk the ramp in Vikram Phadnis outfits on Day 4 of the Lakme Fashion Week in Mumbai.
Mumbai in Malacca


The state government of Malacca is seeing Shah Rukh Khan's acceptance of a Malaysian award as a door opening for more Bollywood movies to be shot in the city. King Khan recently agreed to come to Malacca next month, to receive his Darjah Mulia Seri Melaka Award, which carries the title 'Datuk'. Chief Minister Datuk Seri Mohd Ali Rustam said the Indian superstar would act as a 'bridge' for more movies to be shot at the historical city.

Shah Rukh has been honoured with a Malaysian title
Purav going places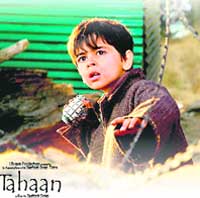 Eight-year-old Purav Bhandare swept the nation's critics and audiences off their feet with his endearing performance in Tahaan and now he has been offered the pivotal role in Irish director Steve Barron's next film. Of course, Tahaan director Santosh Sivan is raving about the child prodigy. "Steve came down looking for a boy of a particular age and personality. He knew about my work with kids in various films. I recommended another child from a film of mine. But Steve didn't like him. He immediately took to Purav when he met him," Sivan said.

Purav Bhandare
Suit-able collections


An exhibition of hand and machine -embroidered suits, kurtis and tunics in satin, cotton and crepe by Swati P. Gill at Hotel Aroma-22


Boogie Woogie Kids Champion -2008, Isha Dang,
inaugurates a three-day exhibition of designer
suits and kurtis by Satinder Kaur
at Hotel Aroma-22
Sweet but not sugary
Sick of sweets at Divali time? Fear not for your taste buds. For, tricity shops and bakeries are dishing out many sugar-free savouries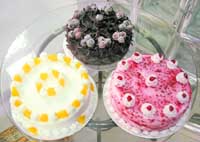 The sight of a chocolate cake dripping with layers and layers of brown liquid, topped with cherries. One look. Another look in the opposite direction! It's tempting. Shh…hey, you can control. Think of that mini dress. That size zero figure. There you go, rushing, at the supersonic speed. Before, the vows and the promises can be reminded, you've already bitten into a big chunk of the forbidden thing.



A not-too-sugary cake at Monica Pies & Puddings. Photos: Parvesh Chuahan

Bon Appetit
Guilt-free goodies


Kandla Nijhowne
Divali is hovering close and that spells calorific doom coming hand-in-hand with terrific fun for the Blubber-Watchers' brigade! What can you do when good friends arrive at your doorstep armed with even better chamcham? You can't show them the door nor consign the sweet syrupy mithai to the dustbin, can you? Make moderation your mantra this Divali and try your hand at rustling up some of these low calorie sweets at home!