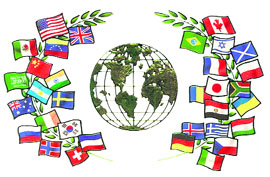 Heal the World
The history of the world is one of conflict and resolution. As we see more of both, international relations experts will be increasingly plugging breaches and resolving differences
THESE are indeed interesting times. The most powerful democracy in the world is in the process of electing its chief executive. The largest democracy is preparing its 1 billion people for an impending election.


Careercature
Sandeep Joshi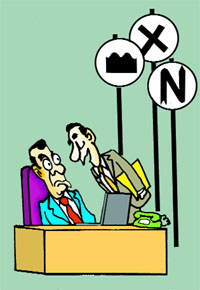 We are using these road signs to help our staff negotiate the spare marketís twists and turns, ups and downs.

Take your pick...
School of International Studies, New Delhi (110067)
Course: Coming under Jawaharlal Nehru University, it provides facilities for pursuing MA in politics with specialisation in international relations. JNU also offers M.Phil. and Ph.D programmes in international politics, organisation, disarmament and political geography, diplomatic studies, international legal studies, international trade and development.
Career Hotline
For starters, enroll in LLB
Q. I am student of BA final year. I want to establish myself as a government advocate. What do I have to do for it? Please tell me the complete process.
ó Ranjit Chaddha
A. First of all, you need an LLB degree after you complete your graduation, as a base qualification. While all government departments recruit officers on the basis of an all-India competitive exam conducted by the Union Public Service Commission, the judiciary is unique in the sense that it doesnít have an all-India selection process.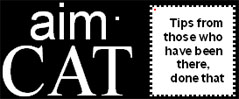 Each to their own
THE Common Admission Test, one of the most sought after tests in the country, and IIMs one of the most sought after B-Schools in the country and world. The word CAT reminds me†of lakhs of students who set out to crack this test in order to be able to fulfill their dream of being a part of one of the seven IIMs.

Know thy bubble
WITH CAT just round the corner, it is of immense importance for students to consolidate all the hard work that they have put in the past few months. Though people may differ on this, CAT is undoubtedly tough. Not largely because of the amount of problem solving or grammarian skills that is required, but because of the huge competition (read total number of candidates appearing) that has been growing over the years.
More than welcome!
As many as 19 new IHMs & 25 Food Craft Institutes will come up across the country
IN a significant decision, the Cabinet Committee on Economic Affairs (CCEA) has approved the proposals of the ministry of tourism seeking to enlarge the scope of its scheme that provides for creation of institutional infrastructure necessary for hospitality and tourism-specific education. This revision of the scheme had become necessary to meet the growing demand of the industry of trained manpower.
COURSE CHAT
The Growth Story
The retail industry is booming. Move ahead, jump on to the retail bandwagon and the only direction in which your career graph grows will be skywards!
ARE you young, motivated and enjoy working with people? If yes, then retail is just the career for you. It is not like other jobs up for grabs in this fast-growing sector. No other career option could possibly offer you the same opportunity to zoom up the corporate ladder as fast as retail can.