HELL in the land of gods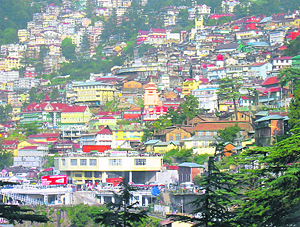 The dream: A home in the hills, crisp, clean air, towering deodars, the perfect weekend getaway... The reality: Totally the opposite! So, if you are planning to buy property in or around the Queen of the Hills, this one's just for you
HELL is under construction in the visitor's paradise. From a distance, Shimla's chuckling blue mountains lure you, rising above the soft cottony clouds to meet the harmonising skies. The existing, yet depleting, testimonies of colonial architecture that have survived the test of time and administrative apathy add to the charm; at once you start calculating the amount in your bank account for converting hard liquid cash into a concrete reality for your family.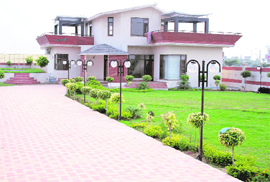 GROUND REALTY
Protect, preen, PAINT
EXTERIORS of a house are constantly exposed to severely acting elements of weather. In India, the weather effect is quite variable -- sometimes, it is harsh sunlight and at others, severe and unkind winter. Rain, fog, high and low temperatures also tend to fade the exteriors.
A combination of brick tiles and cement paint.
Tax tips
No escaping capital gains tax, but...
...you have a strong case
Q. Thanks for your reply in these columns. Kindly clarify further: As mentioned in the reply, u/s 53 a of Transfer of Property Act, transfer is complete when there is written contract, consideration has passed and possession has been given.