Return of Singh as King
The NRIs, as audience and investors, have brought about a revival of the Punjabi film industry, writes Jangveer Singh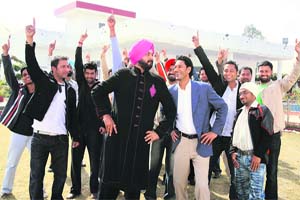 Mera Pind – My Home, starring Navjot Singh Sidhu and Harbhajan Mann, had a successful run all over Punjab recently
THE images of Punjabi people and culture in films is changing — for the better. This is noticeable in a number of recent films such as Jab We Met and Heroes. Kitsch as shown in Singh is Kinng is an exception. The Punjabi flavour has become a good selling point, including for producers of music albums. The Punjabi film industry has also awakened to this reality and the potential it has for Punjabi movies abroad.
This new identity as portrayed in Punjabi films is a result of the trickle-down effect from Bollywood and television serials.
The Punjabi audience, which has grown up on the themes of revenge and macho pride, crude humour and songs around sarson de khet, is now ready for a change. Having easy access to Hindi movies, they want Punjabi movies to be made on a similar scale and with the same level of professionalism. This has seen farmhouses replacing the village scene and foreign locales replacing mustard fields. Music, too, has become a blend of the traditional and pop.
This would have been difficult some years back with most Punjabi films having a budget of less than Rs 1 crore. However, the Punjabi film producers are now aware of the large NRI audience and the global market of Punjabi movies and have become more market savvy. Thus, NRI subjects and pop icons have given an international flavour to Punjabi cinema.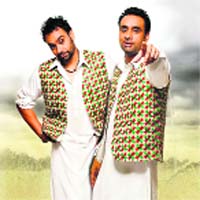 Documentary filmmaker and journalist Daljit Ami says earlier producers experimented by making films with artistes like Mohammad Siddique and Surinder Sharma, but the trend caught on with Gurdas Maan. This period also saw the emergence of pop singers like Harbhajan Mann as heroes. Mann has been an integral part of some of the most successful productions of Punjabi director Manmohan Singh.
According to Ami, the casting of Babbu Mann (in the recently released Hashar) and Sarabjit Cheema (Pind Di Kudi) is part of this phenomenon as investing in pop icons ensures partial return on investments through the selling of music rights of the movie.
Ami says the coming trend will be of comedy films. Jaspal Bhatti started it with Mahaul Theek Hai. Many other comedians, like Bhagwant Mann, are now coming up with their own films. He feels there is not much humour in Punjabi movies although Punjabis love comedy. Bhagwant promises a slick comedy using Bollywood technicians. "This is necessary when technologically inferior movies cannot simply compete with Bollywood and Hollywood productions," he adds.
Meanwhile, the mood is upbeat with new releases being launched every week and movies waiting in the wings. Babbu Mann's Hashar was released recently, while Sat Sri Akal and Punjab-1947 are awaiting release.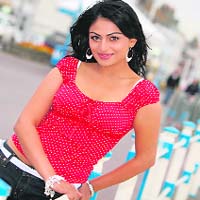 Neeru Bajwa in Manmohan Singh's Dil Apna Punjabi, which is the story of a NRI's return to his homeland
Darshan Aulakh, an actor and a line producer for most Bollywood movies being shot in Punjab, says artistes and technicians are flooded with work at present and even young actors from Bollywood are more than willing to work in Punjabi films. He says the movies under production include Harbhajan Mann's Jag Jeonda De Mela, being made by a Canada-based producer, Tera Mera Ki Rishta, starring Jimmy Shergill and Kulraj Randhawa and an untitled Gurdas Maan production.
Notwithstanding the rosy future, many veteran producers feel Punjabi movies are still a huge financial risk.
But someone who has beaten this trend is Manmohan Singh, whose films have done quite well. His Dil Apna Punjabi was a record hit while his latest Mera Pind — My Home did business of nearly Rs 4 crore in the first four weeks. The movie is expected to rake in a similar collection with prints being released in the UK, the US, Australia and Malaysia.
However, the same cannot be said of other recent releases, including some high-budget films. One such film is Lakh Pardesi Hoiya, which had an international plot, but did not appeal to the audience. Its director Dr Swaran Singh says he wanted to make a commercial movie with the aim of raising the standard of Punjabi films. He says producers of most Punjabi movies have been losing money. The investors of Pind Di Kuri, Kaun Kisa Da Beli and Yaarian — all released this year — lost heavily.
According to another director Iqbal Dhillon, many Punjabis, who don't know much about the Punjabi film industry, were only investing in it due to its glamour quotient. He said even big budget movies that have been acclaimed as successes, too, have lost money.
Dhillon feels that the state government's policies may be partly responsible for this. He said the present policy provided a level-playing field to all regional films with no entertainment tax being levied on them. However, only the Bhojpuri movies were benefiting the most from this tax-free status, as these movies were being produced at a fraction of the cost of Punjabi films. Hence, these films were able to ensure a return on their investments. The director feels that the state government should give additional benefits to Punjabi filmmakers so as to promote its own industry vis a vis other regional films.
Another reason because of which Punjabi movies are losing money is that most Punjabis are not watching films made in their own state, feel veterans. "Hindi films are a clear favourite unlike other states like Tamil Nadu and Andhra Pradesh where regional films rule the roost," says director Dr Swaran Singh.
He feels that the low-key publicity of Punjabi movies due to limited budgets was also affecting the regional film industry. He said many films became hits much after their release due to their publicity by word of mouth.
What then is the future of Punjabi movies? Daljit Ami puts it aptly when he says that earlier a movie was a declared a hit after its success in Bathinda, Muktsar, Moga, Abohar and such towns but now it is decided according to the movie's run in Chandigarh and other major cities of Punjab having a multiplex market.
This multiplex culture could revive the Punjabi film industry, says Manmohan Singh. The filmmaker says as more multiplexes are coming up as many as 100 Punjabi film prints can now be distributed in the state simultaneously. According to Manmohan Singh, while there is a good market in Haryana, the future of Punjabi films mainly depends on capturing a sizeable market share in Delhi. "When this happens, more investments will flow in and then we can give Bollywood movies a run for their money," he adds.