ART & LITERATURE

'ART & SOUL
ENTERTAINMENT

TELEVISION

GARDEN LIFE

NATURE

FOOD TALK

CONSUMER RIGHTS

FASHION

HOLLYWOOD HUES

BRIDGE

ULTA-PULTA
EARLIER FEATURE

TRAVEL

RELATIONSHIPS

DREAM THEME

TIME OFF
It is the land of breath-freezing chill and breathtaking views.
A.J. Philip gives a glimpse of life in the Cold Desert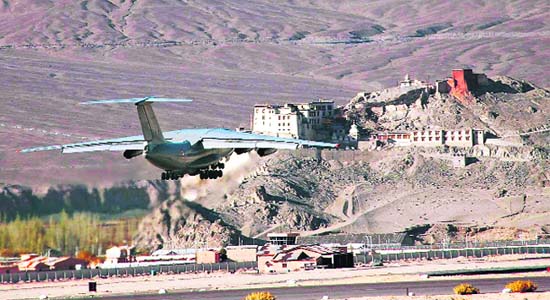 IT was a dream journey. Inside the navigator's cabin in the Indian Air Force transport aircraft, it was not very comfortable for the two of us. But Wing Commander Nicholas Roy not only made it enjoyable but also gave us a fascinating description of the places we overflew and the peaks and valleys we saw, as he directed the flight path in consultation with pilot Rammurthy.
'An image is more than a pretty picture'
Raghu Rai recalls his journey in photography during a recent workshop, writes Roopinder Singh
Raghu Rai is engaging, penetrating, philosophical, humorous and humble — a combination of qualities that leave his audience captivated. At a recent lecture-cum-slide-show held in Chandigarh, he explained his journey into photography and through it, life. As Rai shared his experiences, he touched many a chord among the audience that filled the auditorium to the brim.
Gateway to Uzbekistan
Trees and museums are two major attractions of Tashkent, a showpiece of Central Asia,
writes Lalit Mohan
IF Tashkent ever had a patron saint, he must have been a horticulturist. The city, which was flattened by an earthquake in April 1966, was rebuilt by the Soviets around its trees. It can be, in fact, called a 'city of trees' as trees are its most striking feature, soaring high along the roads, in the parks, they are everywhere.
Fights of fancy
Certain themes, characters or events on the screen have evoked many a protest,
writes Surendra Miglani
Protests and logic do not always go together, particularly with regard to Hindi movies. It is not rare to see political parties, religious organisations, historians and even ordinary cinegoers registering their opposition to the depiction of certain themes, characters or events on the screen.
Unusual war film
Action slowly builds up in Rachid Bouchareb's Days of Glory, writes Ervell E. Menezes
THAT the French are racists, especially in respect to their`A0black African colonialists, is evident in the metro or in the streets. And targeting the Algerians for special discrimination is no secret. In Days of Glory French director Rachid Bouchareb picks on a slice of history where four Algerian soldiers, fighting for a country they have never seen and for whom they are willing to sacrifice their lives, are subjected to utter humiliation by their own countrymen.


Web wise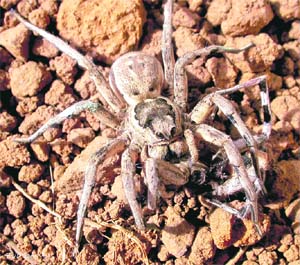 A female burrowing wolf spider (Lycosa tarantula), the Mediterranean tarantula, is photographed while feeding on a male is this undated photograph. A team of researchers from Spain and the US led an investigation to reveal the extent to which sexual cannibalism occurs in nature and whether this behaviour benefits female spiders. According to their results, in a natural population of burrowing wolf spiders, one-third of the females kill males rather than mating with them, and the females accrue substantial benefits from consuming their kill. The researchers found that the female spiders who eat would-be suitors produce more babies, and those babies are stronger and bigger, than spiders who stick to more mundane fare, researchers reported. And the merciless mother spiders waited until they had mated with another — ensuring they would hatch spiderlings — before consuming their new beaux. These results appeared in the open-access journal PLoS ONE. — Reuters
SOCIETY
HIGHWATER MARK
Long treks across arid stretches for a pitcher of water are becoming a thing of the past as water-harvesting projects are transforming the landscape of Rajasthan. Sarbjit Dhaliwal on how a report in The Tribune brought about a change in the water deficit Sikar-Alwar belt
Rajasthan, a state whose very name conjures up images of sand dunes, dry barren landscape, camels and poverty, is the scene of a silent revolution as it is fast changing from the land of sand dunes to the land of lakes. Several man-made lakes have come up amid Aravalli hills in Sikar and Alwar districts.
SOCIETY
Wedded to tradition
Radhika Bose
THE present wedding season in India is witnessing a grand revival of couture from the courts of Mughal maharajas and Rajput kings. Sherwanis, bandhgalas and achkans are once again jostling for attention with angarkhas, salwar suits and lehenga-cholis. Richly embroidered and embellished with pearls and semi-precious stones, these outfits are available in silk, spun-tussar, terry-wool, jamavar and sand-washed silk.