SOCIETY
HIGHWATER MARK
Long treks across arid stretches for a pitcher of water are becoming a thing of the past as water-harvesting projects are transforming the landscape of Rajasthan. Sarbjit Dhaliwal on how a report in The Tribune brought about a change in the water deficit Sikar-Alwar belt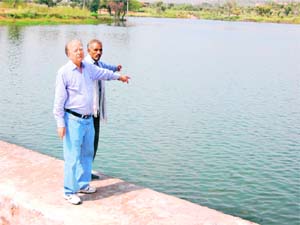 R. N. Malhotra, member of the PHD Chambers of Commerce and Industry, at a man-made lake in Sawalpur village in Sikar district of Rajasthan Tribune photo
Rajasthan, a state whose very name conjures up images of sand dunes, dry barren landscape, camels and poverty, is the scene of a silent revolution as it is fast changing from the land of sand dunes to the land of lakes.
Several man-made lakes have come up amid Aravalli hills in Sikar and Alwar districts. Rainwater flowing from hills has been pooled in lakes by building check dams at appropriate places. Some Delhi-based industrialists have, with the help of locals, brought about this change in the landscape of Rajasthan where water is still more precious than diamonds.
The Idea
About 10 years ago, noted journalist Chanchal Sarkar and his publisher friend R.N. Malhotra read a report on water harvesting published in The Tribune. After going through the report, they drove from Delhi to Chandigarh to see the water harvesting projects mentioned in the report. I took them to Rail Majra village, near Balachaur. After seeing some of the projects in the sub-mountainous Kandi belt near Balachaur, they returned to Delhi.
Sarkar made an effort to implement the project in his native state ó West Bengal. He and Malhotra executed the project at one place. But they did not get adequate response from people of the state. But this disappointment did not dampen their enthusiasm.
The execution
Once back in Delhi, Malhotra put up a proposal before the PHD Chambers of Commerce and Industry (PHDCCI), of which he himself was an active member, to implement the project in Rajasthan.
PHDCCI accepted the proposal but opined that before its implementation in the proposed state proper locations should be identified and viability of the project should be studied. The PHD also set up a separate wing for the purpose and it is now known as the PHD Rural Development Foundation.
K.S.Mehta, who was made Chairman of the foundation and Malhotra, who was Chairman of the foundationís water-harvesting projects, walked several miles through the hills to identify and finalise project sites. They held meetings with the locals to seek their approval and to make a written agreement s with them for implementing the project.
Locals happily agreed to make 25 per cent financial contribution in the projects to be located in their respective areas and also to abide by other conditions.
At present as many as 70 small and big lakes have come up in Sikar and Alwar districts. These lakes, however, have nothing to do with the water-harvesting projects conceived and executed by Rajinder Singh, a Magsaysay award winner (2001) who is known as "waterman" in Rajasthan.
The villages where projects have been set up include Kishanpura, Sawalpur, Math Ki Dhani, Panch Nayala, Luharawas, Avinashi, Jharinda, Saidala, Ramlayas, Kalakota, Bhagwan Pura, Baleta, Gudha Kalayanpura, Kulsad, Macha, Deveta Kishengarh, Lava Ka Vass, Odra, Kraska and Mancha.
Punjab, however, had taken a lead in this respect as much before the execution of water-harvesting dams by Rajinder Singh in Rajasthan, the concept had become popular in the Kandi area. One such dam at Sukhomajra, near Chandigarh, has attracted several experts working in for water conservation.
Winds of change
Getting a chance to visit some of the water-harvesting dams set up by the foundation in Neem Ka Thana block of Sikar district, proved to be a wonderful experience. Lives of thousands of people in this belt, who have been living in extreme poverty for the past several decades, are changing fast. The economy of the area has got a boost because of these projects. Whereas earlier just one crop was grown, now some of the farmers are growing three crops. Even wheat is being cultivated in this belt now. The level of groundwater has come up to 30 feet from 90 feet earlier.
The easy and increased availability of water has also given a boost to the dairy farming sector as people can now maintain bigger herds of milch cattle and sheep and goats. Obviously, the price of land has shot up from a few thousand rupees to Rs 3 lakh per acre.
"Earlier people from our area used to go to Delhi, Punjab and Haryana to work as labourers, but now all that has changed", said Avinash Vishen, former Sarpanch of Sawalpur village.
Better financial condition has also meant better educational facilities for children. The foundation has also worked for women empowerment in this area. Training programmes have been arranged for improving the skills of women to generate more income. Advocacy and awareness movements have been launched to educate women panches about their rights and responsibilities. Nurseries have been set up at various places to distribute saplings of indigenous species free of cost to improve green cover in the area. "Our approach is multi-dimensional and is aimed at improving the lives of people of this area", said Malhotra.
The foundation has so far spent about Rs 3 crore on these projects.
Besides corporate members of the Chamber, national and international agencies such as UNDP, Centre for Environment Education, Rotary International, Rotary India Water Conservation Trust, Palriwala India Foundation, Switzerland, Jesus Christ Church of Latter Day Saints, USA, New Zealand High Commission, which wanted to implement one project in the memory of legendary Mountaineer Sir Edmund Hillary, have contributed money for these projects. Other main donors are Malhotra, Pradip Burman, K.S.Mehta, Sushil Gupta, Sanjay Bhatia, P.K. Rajgarhia, Sandeep Gupta and Satish Bagrodia.
But a lot more needs to done in the area. The foundation will have to set up water-user committees for rational and fair use of water available in the lakes. As income level will further improve and vested interests will develop in using the water to irrigate crops, there will be many powerful beneficiaries who will make an attempt to take maximum share of water from the lakes for their fields and deny the due share to weak and poor farmers especially during the rain deficit years. The foundation will have to ensure that all local partners in the project get their due share and that there is no discrimination.