M A I N N E W S
US '08
Obama has solid lead, McCain is 'back'
Ashish Kumar Sen
writes from Washington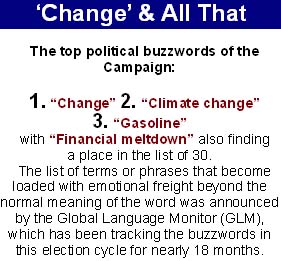 As one curtain comes down on two years of intense and at times bitter campaigning, another will go up on a new era in US politics as millions of Americans will go to the polls on Tuesday to elect their 44th President. They will make history regardless of whom they elect. A victory for Democratic nominee Barack Obama will make him America's first black President, while a triumph for Republican nominee John McCain will make him the oldest.
Polls across the country show Obama leading McCain by anywhere from single to double digits. The latest CNN/Opinion Research Corporation national survey shows McCain trailing by seven points, while a Reuters/C-SPAN/Zogby poll has Obama widening his lead slightly.
Under the Electoral College system, states get votes based on their population. A candidate needs to win 270 of the 538 votes to win the presidency.
The six closest races will be in the states of Florida,Indiana, Missouri, North Carolina, Nevada and Ohio.McCain holds the lead in Indiana and North Carolina, but Obama is ahead in the others, the latest polls from Reuters/C-SPAN/Zogby suggest. Despite these numbers, McCain oozed optimism, telling supporters at a rally in Florida on Sunday night: "They may not know it, but the Mac is back! And we're going to win this election." In Pennsylvania, he told supporters: "We are going to win in Pennsylvania, we are going to win this election.I sense it and I know it. We are going to win here and we are going to bring real change to Washington."
Obama, while ahead, warned his supporters not to be overconfident and urged them to vote.Officials expect a record turnout this year and the long lines at polling booths for early voting over the past few days bolster that prediction. Traditionally, large turnouts have helped the Democrats. "Don't believe for a second this election is over. Don't think for a minute that power will concede without a fight.We have to work like our future depends on it in these last two days, because it does," he said in Columbus, Ohio.
The Democrat's path to the White House could be blocked by the so-called Bradley effect, which gets its name from former Los Angeles Mayor Tom Bradley who lost his bid for the governorship of California because white voters who initially said they would vote for him could not bring themselves to support a black man.
Writing in the Wall Street Journal, Obama said voters could choose "the promise of change over the power of the status quo" on Tuesday. "So, tomorrow, I ask you to write our nation's next great chapter. I ask you to believe — not just in my ability to bring about change, but in yours. ... If you give me your vote, we won't just win this election — together, we will change this country and change the world," he wrote.
McCain faces an uphill battle both against a candidate who has promised change and the anti-incumbency factor sweeping a country battling two unpopular wars in Afghanistan and Iraq and closer to home struggling with an imploding economy. With his approval rating at its lowest, President George W. Bush, a Republican, has been conspicuous by his absence from McCain's campaign trail.
Neither Obama nor McCain is leaving anything to chance.On Monday, both launched hectic campaigning as they criss- crossed the country in an effort to turn out their base. McCain was scheduled to campaign in seven states, including his home state of Florida, where he is tied in a close race with Obama, to Florida, a state that cost Al Gore the election in 2000.
Obama is determined to win back the state and last week campaigned there with former President Bill Clinton.