Meanwhile, UK soccer academy organises coaching camp at Unison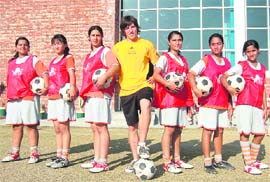 Dehradun, November 4
The Second International Football coaching camp organised by the coaches of Inspire Academy, England in collaboration with Premier India Football Academy (PIFA), Mumbai concluded at Unison World School football ground, here today evening.

Sean Clancy, coach, Liverpool FC Academy, along with trainees at Unison World school in Dehradun. Tribune photo: Anil P Rawat
Maj Gen S.K. Singh visits RIMC
Dehradun, November 4 With a view to motivate young cadets to join the Armed Forces, Maj Gen S.K. Singh, a spirited Rimcollian of Pratap Section, visited Rashtriya Indian Military College (RIMC), his alma mater, here yesterday.