M A I N N E W S
45 killed in HP bus accident
Pratibha Chauhan
Tribune News Service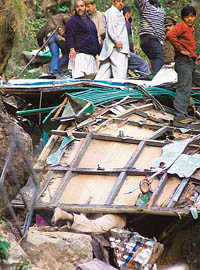 A man lies buried under the wreckage of the bus. Tribune photo: Amit Sharma
Shimla, November 4
In one of the worst mishaps in Himachal Pradesh, 45 persons were killed and five injured when a private bus fell into a deep gorge at Lambidhar near Kufri, 21 km from here, today.
The bus (HP-63-3774), which was carrying 55 passengers started from Kotighat near Kumarsain at 10.15 a.m. and met with the accident an hour later.
While 44 persons were killed on the spot, another succumbed to his injuries in hospital. A two-and-a-half- year-old boy is untraceable.
Twenty of the victims were coming here to attend a wedding. Fifteen of them belonged to Damod village and others to Kacheen Ghati village.
Clothes, shoes and other belongings of the victims were strewn all over the place. Rescue teams comprising police, army, ITBP and Home Guard personnel and the locals extricated the bodies from the mangled remains of the vehicle.
Some labourers working near Kanohar Nullah informed the police and others about the accident and helped the survivors.
The injured, including two women, were rushed to Indira Gandhi Medical College (IGMC). The condition of one of them is reported to be critical.
The government has ordered a magisterial inquiry and the ADM (Law and Order), Shimla, has been asked to submit his report in 15 days.

'I was thrown out and held onto bushes'
Tribune News Service
Shimla, November 4
The family of Lalita Thakur couldn't have been more grateful to God for having saved their daughter, who sustained only minor injuries in the bus accident in which 45 persons were killed.
Lalita (25), hailing from Gullo village, said the driver was driving recklessly and the passengers requested him to be careful, but he did not pay heed.
"The driver had the remote of the CD player in his hand when he lost control over the vehicle, resulting in the mishap", she said. Lalita was on her way to HP University and had boarded the bus at Theog.
"I was thrown out of the bus and held onto bushes for about 20 minutes till I was rescued by labourers," she said at Indira Gandhi Medical College where she was admitted.
Her father, R.S. Thakur, said it was at about 11.30 a.m that he got a call from a mobile phone that his daughter had met with an accident.
Another survivor, Anita, boarded the bus at Fagu along with her husband, Dhyan Singh, and sister.While her husband survived, her sister died.
"It was the sheer carelessness of the driver which resulted in the accident as the bus steered from one end of the road to the other as people screamed", she said.

List of 42 deceased and 4 injured in the HP accident
Tribune News Service
Shimla, November 4
The following are the names of 42 of the 45 deceased in the Himachal bus mishap: Krishan Chand (Damod), Mohan Lal Bhardwaj (Batabda), Suresh Kumar (Bharana), Avdesh (Premghat), Sushil Kumar (Theog), Naresh Kumar, Rajender (Janogghat), Kamlesh Chauhan (Baragaon), Pradeep Kumar (Bhuna), Lakshmi Kainthala (Damod), Draupda (Janedghat), Hira Nand (Ujaid), Prem Sukh (Chamula), Mamta (Batawra), Vivek Bali (Chamola), Yoga Nanad Bali (Aahar), Joginder, (Kathala), Chand Devi (Batawda), Gangi Devi (Lalyana), Phuli Devi (Palvi), Prakash Chand (Shainal), Shanti Swaroop (Baragaon), Krishna Devi (Kandyali), Brij Lal (Kandyali), Durga Das (Ramgaon), Narender Kanwar (Kayara), Chetan (Chamola), Jeet Ram (Palvi), Dewan Chand (Ghasni), Naresh (Baragoan), Kamla Devi (Gallu), Ramji (Theog), Tara Chand (Damod), Paras Ram (Damod), Lal Singh (Thatal), Durga Nand (Bhuna), Pinki (Damai), Mrs Yadav (Hiranagar- Gurgaon), Ghanshyam (Khumda-Hathia), Rajeev Kumar (Ghareen), Nihal Chand (Bhamnoli) and Anil (Darog).
Four of the five injured are Dayal Singh and his wife, Anita of Kufarfaila village, Narender of Chaid village, and Lalita Thakur of Gallu.