M A I N N E W S
5-yr-old loses battle for life
Bijay Sankar Bora
Tribune News Service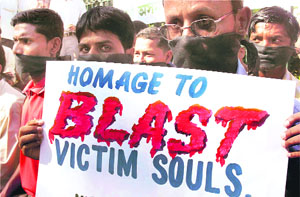 Activists of the All-Assam Unemployed Association demonstrate during a protest rally against serial blasts, in Guwahati on Tuesday. — PTI photo
Guwahati, November 4
Since her admission to the pre-primary class of Hengerabari Lower Primary School in January this year, Moromi Sarma never missed a class till she was seriously injured in the serial blasts that rocked Guwahati on October 30.
She died at the Guwahati Medical College Hospital (GMCH) last night of severe burn injuries suffered in the blast that rocked the Ganeshguri area in the city. She had been battling for life since the fateful 'black Thursday' but finally succumbed to her injuries. The Tribune carried the story about her battle for life in the hospital earlier.
Her father Sagar Sarma, a carpenter and a migrant from Bihar who had settled in Assam, was killed in the blasts. Moromi is now survived by her mother and elder brother Karan. Her mother fell seriously ill on hearing about Moromi's death and is now under the supervision of doctors in the hospital.
"Moromi was a regular student with cent per cent attendance. We have been deeply shocked by her tragic demise. The school mourned her death today and didn't hold any class," said a teacher, Nilima Kalita, of Hengerabari L P School.
Moromi just stepped into the sixth year of her life on October 29. As the family couldn't celebrate her birthday because of Diwali, the next day Sagar Sarma, after picking her up from the school, went to Ganeshguri market to buy fish for dinner to celebrate her birthday a day late.
The devastating serial terror left laps of many other mothers void in the state. A budding lawyer, Dipamoni Saikia, who was killed in the blast that rocked the Chief Judicial Magistrate (CJM) court's parking area in the city, was the only ward of her widowed mother Purnima Saikia. Dipamoni's father, an inspector in the Assam Police, died many years ago.
Born in 1975, Dipamoni joined the Bar nine months back. She was a masters in music, besides being a lawyer and was an accomplished and popular Bihu dancer. Her shell-shocked mother has become extremely silent after the serial blasts that snatched her daughter away.
Meanwhile, the death toll in the state has risen to 86 with reports of more deaths coming from different hospitals where blast injured are being treated.