M A I N N E W S
Sketches of two blast suspects released
Bijay Sankar Bora
Tribune News Service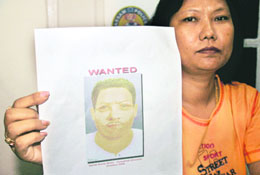 A police officer shows a sketch of a suspect involved in planting a car bomb, in Guwahati on Tuesday. — Reuters photo
Guwahati, November 4
The Assam Police today released sketches of two suspects involved in the explosion that rocked the Chief Judicial Magistrate's (CJM) Court at Panbazar in the city, killing over 20 persons.
Additional superintendent of police Jayashree Khersa informed that the sketches of the blast suspects were made on the basis of information provided by five eyewitnesses.
A team of artists from the Kolkata Police were helping the Assam Police to get the sketches of suspects done.
Police officials said more sketches of blast suspects were being prepared with new inputs and would be released soon.
Another person identifying himself as Gunajit Sharma today claimed that he could help the police figure out two suspects involved in the CJM court blasts. He claimed to have seen those persons on the premises of the Guwahati Planetarium minutes before the explosion.
At least four more persons have been picked up by the police for interrogation in connection with the blasts. The police is yet to make any breakthrough in the case.