Mumbai Samba
It's been India Shining at the unlikeliest of platforms: the dance floor. For, a dancing duo from Mumbai has just bagged a Silver at Colombo and is now in town to get our couples into jiving mode, writes Chetna Keer Banerjee
If it's been a golden year for Indian sport (Beijing and all), it's been a silver one for dance sport. Cheers to the dancing duo from Mumbai, Shannon Benjamin and Priti Gupta, who bagged a Silver at the recent Sri Lankan Open Latin Dancesport Championship-2008, and landed in the tricity on Tuesday straight from this success.

Dance like a duo: Priti bends it like a ballerina with Shannon
Play right
Parbina Rashid
Our very own version of Mrs Bennet is back doing what she loves: theatre. And her latest muse is M.F. Husain
A long night journey, meeting people, then an interaction with students of the Department of Indian Theatre and a press conference before getting the acts together for the play tomorrow - quite an itinerary! But Nadira Zaheer Babbar remains unfazed.


Sisters in arms
Jasmine Singh
Deputed at the ICL for the security of women, these girls from various walks of life make sure all goes well around the field
When everyone around is cheering for their favourite cricket teams, these girls stand in pairs with a deadpan expression and steadfast mind. Deputed at the ICL to ensure that everything is hunky dory at the game, these are the security girls who ensure that cheering and hooting don't go out of control.


Photo: Pradeep Tewari

Art concern
THIS promise isn't big but honestly committed. It assures support, encouragement, inspiration and so much more that can make a difference to the lives of eight youngsters. Such is an initiative taken by the Chandigarh Lalit Kala Akademi that has taken the onus to hone talents of eight budding artists.

The winners take it all Photo: Vinay Malik




From the tribal belt
Ashima Sehejpal
One gets to see the lifestyle of lesser-known tribes at the exhibition Bedum
Art has a way of saying things effortlessly. Things that might take writers to write volumes on or filmmakers to shoot reels on it, artists sum it all up in just a few strokes and, of course, with the equal efficacy.



Singh's second coming
Basking in the super success of Singh is Kinng, producer Vipul Shah is set to make a sequel to the comedy and has signed on favourite actor Akshay Kumar for it. However, he plans to make another film with the actor before that. "After doing Waqt, Namastey London and Singh is Kinng, we had to do something that would take us into another zone.
Vipul Shah teams up once again with Akshay for the sequel of Singh is Kinng



Welcome... to satire, again
Shyam Benegal shifted from his 'kind of cinema' to come up with the successful comedy Welcome to Sajjanpur and the veteran director says he will stick to a satirical theme for his next venture too. The prolific filmmaker, who is always ready to discover every facet of society with his visual medium, says he will soon finalise the script of his next comedy venture.
Shyam Benegal ready to direct another comedy


Do ka dum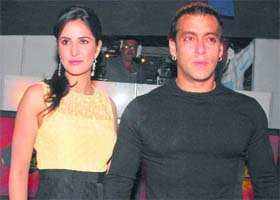 Bollywood actors Salman Khan (R) and Katrina Kaif pose during a promotional event for their upcoming movie Yuvvraj on a television show in Mumbai. The movie is directed by Subhash Ghai and also stars Anil Kapoor. Photo: Reuters
In Pammy's shoes
Actress Jada Pinkett-Smith plans to follow in the footsteps of Pamela Anderson with a new career as an animal rights activist, when she gets older. The 37-year-old star, who's married to superstar Will Smith, is a hardcore animal lover and owns a menagerie of pets, including three cats and two dogs. She has also bought a red-tail boa constrictor, and named it 'Beauty'.
Host no more
Hollywood singer-actor Lindsay Lohan has been axed as host of the World Music Awards in Monaco next weekend. She has now been replaced at the 11th hour by Denise Richards as the show bosses panicked over whether Lohan was actually up to the job.


Baggage booty
Pop singer Kylie Minogue had five of her suitcases stolen just hours before she was supposed to hit the stage in Bogota, Colombia. The luggage contained laptops, cameras and even some of her show outfits. But despite that the tour opened successfully. She had 25 backing dancers and a huge lighting system, which dazzled the fans. She has put out a reward of 1,300 pounds to have her stuff returned.
Love hurts
Spanish pop star Enrique Iglesias seems unaffected by his girlfriend Anna Kournikova's remarks of never marrying him, as he is convinced she will leave him anyway. The Hero singer says that he is cool with the 27-year-old tennis sensation's remarks, and insists that he is only being realistic about their romance.


Team spirit
ICL players at a party on Monday evening
Seen in the picture are Lou Vincent, Daryl Tuffey from Chandigarh Lions and Nathan Astle from Mumbai Champs

Close comfort

: Bond time for players Photos: Vinay Malik