Molecular walker
Dr S.S. Verma
Nature has exhibited all around us the controlled motion from molecular levels (i.e. functioning of life) to large levels (i.e., the functioning of the universe). Man is always on progress to mimic these miracles scientifically. It was a great achievement of mankind to have controlled motion of machines at macro-level and could design successfully sizable, efficient and controlled transport vehicles. But with the development of nanotechnology he (Man) is trying for controlled manipulation of transport properties of matter at molecular and atomic scales.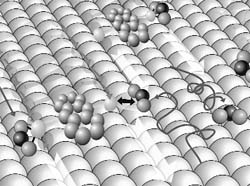 A walking molecule carries molecular packages
With the development of nanocars (based on molecular motion), chemists two years ago could move a molecule straight on a flat surface and now are able to force this walking molecule to carry packages like two CO2 molecules.
It resembles the way nature does it as in the human body; the molecule hemoglobin carries oxygen from and carbon dioxide to the lungs, thereby allowing us to breathe — and to live.
Just like human, this nano-worker is slower when it carries other molecules. The researchers think their discovery will lead to many fruitful applications for mankind in near future.
We all know that ordinarily, molecules move in every unpredictable direction when supplied with thermal energy. Researchers are working on a project which would convert such random thermal oscillation into directed motion and in 2005 the molecular walker was invented.
Prof. L Bartels and his colleagues at the University of California (USA), guided by theorist Prof. (Ms)Talat Rahman of Kansas State University, for the first time, created a organic molecule — anthraquinone or 9,10-dithioanthracene (DTA) (chemical formula: C14H8O2) containing a chain of three benzene rings, with two oxygen atoms attached to the central ring, one on each side called linkers that act as feet configured in such a way that only one foot at a time can rest on the substrate (Figure 1). DTA is a derivative of anthracene with an appearance of yellow or light gray to gray-green solid crystalline powder. It is insoluble in water or alcohol, but dissolves in nitrobenzene and aniline and is chemically fairly stable under normal conditions.
DTA only moves along one line, however, and retains this property even if pushed or pulled aside with a fine probe. Similar to a human walking, where one foot is kept on the ground while the other moves forward and propels the body, the molecule always has one linker on a flat surface, which prevents the molecule from stumbling to the side or veering off course.
During testing, the molecule took about 10,000 unassisted steps. Alternating the motions of its two "feet," DTA is able to walk in a straight line without the assistance of nano-rails or nano-grooves for guidance.
The work proves that molecules can be designed deliberately to perform certain dynamic tasks on surfaces. The UCR research team is now trying to build a molecular ratchet, which would convert random thermal oscillation into directed motion.
Applications
This is really an elegant study and key to understanding transport at a molecular scale which will lead to various uses.
l The fact that the motion is fully controllable might lead to applications in molecular computing, for example for storing large amounts of information on nanoscale chips. An abacus-like molecular memory using DTA would be more than 1000 times more compact than current silicon devices.
l The experiments show a means to transport molecules reliably which is an unprecedented step forward towards the realisation of molecular-scale machinery of the future as trucks and conveyor belts are for factories of today.
l Work in this area could have "real technological implications in the next three to five years" in terms of developing catalysts. An automobile's catalytic converter, for example, uses platinum as a catalyst: carbon monoxide and oxygen attach to the platinum surface and react when they get close to each other. But moving the two closer with the help of another molecule would speed up the process and use less of the expensive platinum.
l Experts say the work could also have implications for building molecular electronics, a fledging research area in which organic molecules, rather than silicon, serve as transistors and other electronic devices. By understanding how the energy barrier changes, we can learn how to control it, which would be crucial for assembling molecular circuits.
l A research team has created a molecule that can function as an ultra-miniaturised version of a keypad locking mechanism. Keypad locks allow an action to take place only when the right password is entered. It will lead to inventions in other areas such as information security and even medicine. Faster and more powerful molecular locks could serve as the smallest ID tags, providing the ultimate defense against forgery.
l In the future, molecular keypads might prove valuable, as well, in designing "smart" diagnostic equipment to detect the release of biological molecules or changes in conditions that indicate disease.
The writer is from Department of Physics, S.L.I.E.T., Longowal