The return of Saeed Mirza
His films focus on the trials and tribulations of the common man. Shoma Chatterji
on the filmmaker whose retro is being held in London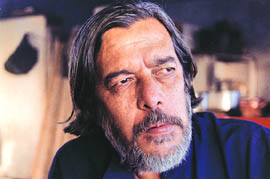 Saeed Mirza returns to filmmaking after 13 years with Savdhaan Meri Jaan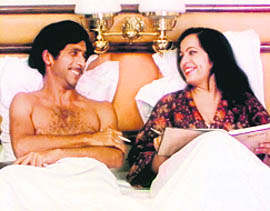 Naseeruddin Shah and Rohini Hatangadi in Mohan Joshi Hazir Ho

DO you remember Saeed Akhtar Mirza? He is the angry filmmaker who broke the stereotype of Indian cinema in his own distinct way with his film Arvind Desai Ki Ajeeb Dastaan (1978). The film explored the strange angst of a young man named Arvind Desai, who was angry with the system but did not know how to deal either with his system or anger. Arvind Desai (Dilip Dhawan) is the only son of a rich businessman (Shriram Lagoo) who deals in luxury handicrafts and products. His feelings for his father are mixed. While he hates his dominating nature, he admires his power and lack of scruples. He has long discussions on art and politics with a Marxist friend (Om Puri), is seeing his father's secretary, Alice (Anjali Paigankar) and sometimes he visits a prostitute, Fatima.
Much against his wishes, his marriage is arranged to a girl from a high-class family who has just returned from Paris much to Alice's mother dismay who realises that Alice was nothing more than a plaything for Arvind who never had any intention of marrying the girl.
It's a film about the transgenerational transfer of values and the dangers of this legacy for the value system in future. Needless to mention, the film was a box office disaster. But it did not deter Mirza from making films to communicate his personal ideology on life and values with more films. The film won the Critics Award from Filmfare in 1979.
Indians in London and its suburbs will have the rare opportunity of watching some films of Saeed Mirza, once a stormy petrel of parallel Indian cinema. Between November 7-11, the South Asian Cinema Foundation, headed by the enterprising Lalit Mohan Joshi, is holding its fifth Film Festival Bollywood: The Flipside! as a tribute to Saeed Akhtar Mirza. "I make films that I believe in. I must first like the film myself." Over the retrospective, Shiv Shankar Mukherjee, Hon. High Commissioner of India, will present Saeed with the SACF 'Crystal Pyramid for Excellence in Cinema' Award. Mirza will release a special issue of South Asian Cinema on the theme 'Leftist Thought in Indian Cinema.' He will also conduct an interactive workshop on screenplay writing and deliver the Phalke Memorial Lecture followed by a panel discussion.
Earlier this year, Saeed was in the news for his book Ammi, Letter to a Democratic Mother, which is an exploration of the relationship between his father and his mother, but which also is filled with Sufi fables, childhood memories, love story, history, politics, dialogues, monologues and a short film script. After a 13-year gap, Saeed has returned to filmmaking with Savdhaan Meri Jaan (2008) being made for Pritish Nandy Communications.
Unlike the predictable, cosy and cosmetic storylines of the usual run of the mill Mumbaia films, Saeed's cinema has been politically strong, socially engaging and totally unpredictable.
A pioneer of the Indian 'New Wave', he has skillfully captured the passions and frustrations of an India emerging uneasily into the 21st century. Born in Mumbai in 1943 to his father, noted writer Akhtar Mirza, known for his scripts of Naya Daur (1957) and Waqt (1965) for B R Chopra, Saeed graduated in direction from the Film and Television Institute of India (FTII) in 1976. His first independent job as a director was a documentary film on a slum in Bombay. The film questioned the rehabilitation of 70,000 slum dwellers. The film was banned. Says Saeed, "After the ban, I turned to fiction."
His iconoclastic films Arvind Desai Ki Ajeeb Dastaan, Albert Pinto Ko Gussa Kyon Ata Hai, Salim Langde Pe Mat Ro and Naseem reflect the aspirations, fears and nightmares of the marginalised communities of India.
"Most of my films are about marginalised people. Anything that's decent, compassionate and human is marginalised in today's world", says Mirza. The climaxes of his films are often hard to swallow and before the final credits roll, they raise more questions than they answer.
The films chosen are Albert Pinto ko Gussa Kyon Ata Hai, (1980), Naseem, (1995) and Mohan Joshi Hazir Ho (1984). Saeed's films are noted for their deep insights into the personal struggles of the common man in an uncaring society. His first film, Arvind Desai ki Ajeeb Dastaan is a dark, brooding experimental film both in terms of form and content. Saeed believes that the film is an exploration of a world where one's actions do not necessarily correspond to one's ideas.