M A I N N E W S
Polls 2008
Action begins today with Chhattisgarh
Another Singur for Tatas in Bastar district?
Vibha Sharma
Tribune News Service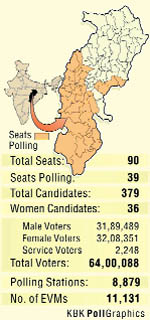 Chitrakoot, November 13
A Singur-like situation is brewing in the tribal heartland of Bastar. In the picturesque Chitrakoot Assembly constituency in central Bastar are 11 villages where resentment against a proposed steel plant by industrial giant Tata Steel is growing. Villagers are so strongly opposed to the proposed plant that their collective resolve now is that they will not allow their land to be acquired for industrial use.
Sudhram Nag of Takraguda, one of the 11 villages up in arms against the proposed industrialisation, is emphatic that he will not part with his piece of land at any cost.
"It is our ancestral land and we have a certain emotional bonding with it. Besides, the land that Tata wants to acquire is a very fertile land, which gives us two crops every year. There is a lot of barren government land lying vacant. If they really want to develop the Bastar region, they should acquire that land. We have no problem with that," he says
His sentiments are echoed by Naren of Baranji village, who owns four acres in the village.
The direct benefit of this stance appears to be the CPI and the reason is that the party has given villagers the support they had been seeking. It is the red that is now dominating these 11 villages with an electorate of around 22,000 instead of saffron.
The total number of votes in the Chitrakoot Assembly constituency are 1,40,693 and these 11 villages have the capacity to make or mar the prospects of candidates, though observers also say that many among these villages want the Tata plant to come up. "Who doesn't want development," they question.
Though villagers deny it. Reports suggest that villagers did not even allow Congress contestant Pratibha Shah and BJP contestant Beduram Kashyap to enter the villages. But they do accept that the main reason for supporting CPI candidate Ramnath Sarfe is that neither the ruling BJP nor the opposition Congress paid heed to their grievances regarding the land acquisition.
"We approached several Congress leaders, including Mahendra Karma. We also approached the local MLA but no one paid any heed to our problems. On the contrary when we tried to protest and went to the Governor to submit the memorandum, we were arrested and thrown in jail," says panchayat member Damrudhar.
Damrudhar, who says that he was among those who were arrested, also alleges misappropriation of funds while distributing the compensation. He claims that in some cases legal landowners were impersonated and their compensation claims disbursed to wrong persons.
Villagers, gathered at the Gandhi Chowk in the Baranji village, enroute Chitrakoot, have a file in their possession, which state that Rs 7,16,42,224 was disbursed as compensation in 82 such fraud cases. Damrudhar, however, says that the number is much higher.
Villagers now say that while many may have agreed to part with their land under administrative pressure, they will not allow the multinational company to take its control.
The reason, they say, is that while fertile land is being acquired, they are not being given adequate compensation. In cases land is being given, it is barren. Moreover while they are being offered compensation at the rate of Rs 1.5 lakh per acre, in some other villages land is being sold at a much higher rate of Rs 15 lakh per acre.
Now they say that even if they get a higher compensation, they will not part with their land. Likewise is the situation in other villages Beliyapal, Badrepada, Takraguda, Churagaon, Dabpal, Chindgaon, Kumhalia and Belar and Sirsihguda
Even the promise of a job in the proposed industrial set up does not excite them anymore. "They are only going to make us to do menial work. Rather than doing that we would prefer to till our land. This land is so fertile that without any provision of power and water we are able to grow two crops. And if we get facilities like power and water, we will not only be able to make ends meet but also prosper," says Shakardas of Baranji.