M A I N N E W S
Delhi
It's Vijay Rath versus Vikas Rath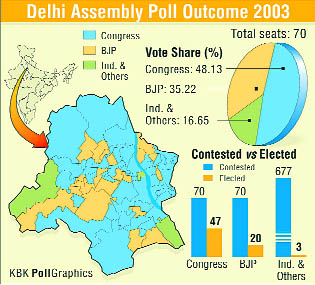 New Delhi, November 13
Riding the wheels of development, the ruling Congress will use the 'Vikas Rath' to take on the opposition Bharatiya Janata Party's (BJP) comeback vehicle 'Vijay Rath' for campaigning in the Delhi assembly polls November 29.
The Vikas Rath, equipped with a 42-inch plasma TV on top and decorated with posters and banners about development work undertaken by Chief Minister Sheila Dikshit, will do the rounds of all 70 constituencies for campaigning from November 15.
The party has roped in professionals from Kalyani Studio in Daryaganj to prepare over a dozen CDs carrying messages from Congress president Sonia Gandhi, Prime Minister Manmohan Singh and party general secretary Rahul Gandhi asking people to vote for the party.
"The party has planned a centrally managed campaign for candidates for the first time. Development is the main agenda of the Congress in the Delhi elections and the Vikas Rath will project the same," Delhi Pradesh Congress president J.P. Aggarwal said.
To woo voters, several parodies will also be played on the vehicle. "The cost of campaigning through this vehicle is nominal, somewhere around Rs.3,500-4,000 per candidate. During elections it is not possible for every candidate to manage his campaign, so the party decided to give a helping hand," said Ajay Vinayak, a member of the Congress publicity wing.
All 70 candidates of the Congress have also recorded messages in their voices in CDs that will be handed over to each of them soon.
"The candidates will tell people how Delhi has got a new identity under the last 10 years of Congress rule. They will also share their vision and work they would like to do once elected," Aggarwal said.
On the other hand, the BJP, which first made rath yatras famous in the country during the 2003 general elections, has planned Vijay Rath for the Delhi elections.
"The Vijay Rath signifies the party's expected win in the Delhi elections as people are really unhappy under the Congress' 10-year rule," Delhi BJP spokesperson Mewa Ram Arya said.
Unlike the Congress, the BJP vehicle will only be used in campaigning for the party's chief ministerial candidate V.K. Malhotra.
"The party workers are busy preparing the Vijay Rath and it will be ready in a day or two. It will have posters and banners pasted on it highlighting the promises Malhotra is going to fulfil once elected to the top job," a party worker said.
The main issues on which the party will contest elections are price rise and terrorism.
Both the parties have also roped in IT experts to launch a hi-tech campaign in the Delhi elections. SMSs and e-mails will do the rounds among subscribers, asking them to vote for a particular candidate. — IANS