Towards an Indian manned flight
Radhakrishna Rao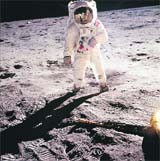 India hopes to emulate the USA by putting a man on the moon in the near future. (Photo courtesy NASA)
The successful launch of India's maiden lunar mission Chandrayaan-1 on October 22, besides catapulting India into the elite global space league made up of USA, Russia, Japan, China and the European Space Agency(ESA) which have sent probes to earth's nearest celestial neighbour, has given a big boost to the ambitious plan of the Indian Space Research Organisation (ISRO) to undertake a manned flight by 2015.
ISRO Chairman Madhavan Nair has revealed that the biggest challenge involved in realising an Indian manned mission is to build a habitat that is suitable for humans in outer space where extremes of vacuum, radiation and zero gravity conditions prevail and the safe return of the crew.
According to the latest Annual Report of the Indian Space Department, India's manned flight programme envisages the development of a fully autonomous orbital vehicle capable of carrying two or three crew members to around 400-kms low
earth orbit.
The Indian manned capsule which is expected to weigh up to 4 tonnes is planned to be launched by means of the heavy liftoff GSLV-MK-III space vehicle now under development.
The three stage GSLV-MK-III equipped with an upper cryogenic engine stage is capable of placing either a 4 tonne class payload into a geostationary transfer orbit or a 10 tonne class payload into a near earth orbit.
As part of the manned mission, an advanced astronaut training facility will be set up by ISRO in collaboration with the Bangalore-based Institute of Aviation Medicine(IAM) which functions under the Indian Air Force (IAF).This facility covering more than 100 acres will be set up on the outskirts of Bangalore.
As pointed out by Nair, "this facility will be ready three years before the Indian manned flight slated for 2015".
Nair observed that Bangalore was the unanimous choice for the astronaut training centre due to its presence of space establishments and aerospace industries. "This training centre will equip astronauts to limit their exposure to radiation in outer space" quipped Nair.
Among the facilities that would form the part of this centre are a radiation simulation chamber to help astronauts handle radiation from the sun; a centrifuge to enable manoeuvers in space, a zero gravity simulator as well as hardware designed to train astronauts fly their spaceship.
Nair has stated that the final nod for this Rs 12,0000-million manned flight programme is awaited from the Government of India.
To complement the Bangalore facility, a crew management facility is planned to be set up at Satish Dhawan Space Centre (SDSC), the Indian spaceport in the spindly shaped Sriharikota on India's eastern coast that would provide last minute training to the astronauts. Further, a third launch pad will be set up at SDSC to support the Indian manned mission.
This third launch pad will have facilities such as crew escape module. Currently, SDSC has two launch pads and the Chandrayaan-spacecraft was launched from the second launch pad.
Meanwhile, everything going as planned, two Indians will fly onboard a Russian spaceship to the International Space Station (ISS) early next decade.
This Russian offer is expected to give an impetus to the Indian manned flight programme.
India and Russia have already set up a joint working team to study the finer details of training and flying Indian astronauts.
It is envisaged that the selected astronaut candidates will be trained in the Russian Star City and this exercise will help India gain an insight into the intricacies of astronaut training.
It was in 1984 that Sq. Ldr. Rakesh Sharma of the IAF became the first Indian cosmonaut after he flew to the Russian Salyut-7 space station onboard the Soyuz-T vehicle under the international space cooperation programme of the Soviet Academy of Sciences.
While many technological elements to put together a manned flight are already available, ISRO would need to develop many new and novel technologies to ensure a foolproof life support system, safety, reliability and an escape system for the crew. And in order to perfect the reentry techniques considered crucial for a manned flight, ISRO is planning to carry out three more flights of Space Capsule Recovery Experiment (SRE).
In January 2007, ISRO had launched and successfully retrieved its first SRE probe. ISRO believes that India's manned mission is a crucial step in the direction of the future plans to ISRO to send a man to moon.
On its part, ISRO will tap the human expertise, scientific talent, technological infrastructure to the fullest extent to give a push to the Indian manned mission
The genesis of the Indian manned mission goes back to November 2006 when around one hundred scientists and researchers hailing from a variety of organisations and specialising in different disciplines, had lent whole-hearted support to ISRO's manned flight venture.
They, however, had insisted on the need for perfecting safety and reliability systems, taking into account the human element.