Childhood, reloaded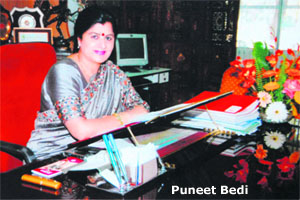 What's childhood without pranks. On Children's Day, some tri-city principals and teachers relive the 'crime and punishment' of their school years
Child, ex-child, still-at-heart child or once-upon-a-time child. Whoever you are, we bet you fit in at least one of the above categories. On Children's Day, we recall how 'serious' the business of childhood is. And exactly how important it is. No wonder, even the teacher's that have always appeared so intimidating, right from that brisk nerve-racking walk into the class to the threatening way of asking questions, have once been the ruckus-makers of the first order. We play these guys confidants, get things out (after much prodding!) and break our vows while sharing these anecdotes with you.
It's your day
Things that you would like to do this Children's Day
Hey, it's Children's Day and for all you parents who are wondering how to make the day special for your little ones, we give you some fantastic ideas how to celebrate the day at home.
NEW RELEASES
This Friday's flicks Dasvidaniya and Dostana offer fun and friendship
Singer to composer
The music of Dasvidaniya, which means 'goodbye' in Russian, will be remembered for a long time thanks to musical wonder Kailash Kher who debuts as a composer with the movie. Along with Paresh and Naresh, Kher has created three songs, including a remix and an instrumental piece. He sings, writes and composes for the film without messing up the album. Alvida, the prime track of the album and the best, is a must hear. It's quite close to impossible that one doesn't end up being a fan of this piece. The number, as a package, is remarkable. Kher renders the song with such ease and passion that one marvels at his talent.
Koffee Break
Johny Johny, yes AB
John says one of the biggest reasons to do Dostana was junior B.


A well-toned body, chiseled looks and hairstyle to die for: John Abraham's new look for the movie Dostana is already creating ripples in the industry. Created by Manish Malhotra and Aki Narula this film would see him in trendy tees and shorts. Shot entirely in Miami, John in this movie shares screen space with junior B and Priyanka Chopra. All keyed up for his latest release, we talk to the muscle man about Dostana and his role.
Advantage, style
Along with top models, international tennis star Nicole Vaidisova and India's leading tennis player Sunitha Rao enlived the launch of Reebok's winter collection
Reebok India, world's leading sports brand launched its Fall Winter'08 collection in New Delhi on Wednesday. The much-awaited fashion presentation by the top models of the fashion industry along with International Tennis star, Nicole Vaidisova and India's leading tennis player Sunitha Rao gave Delhi a sporty, energetic and never before fashion experience.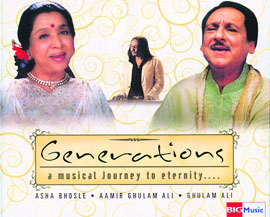 Soulful medley
Both Asha Bhosle and Ghulam Ali have ruled the music world like titans for as long as one remembers. Now that they sing less often, their new offerings are awaited even more strongly. This sense of anticipation is magnified even further when the septuagenarian legends come together after nearly 25 years, their first album being Miraj-e-ghazal. But the magic that one has come to associate with their singing just does not manifest itself fully. Perhaps it is the vagaries of age, which have mixed a bit of jute in the silk.
Away from the brick lane
Having made a mark in parallel cinema Tannishtha is now ready to head the Bollywood way
Actress Tannishtha Chatterjee, who won rave reviews for her performance as the repressed Bangladeshi housewife in Brick Lane, worked with Naseeruddin Shah in forthcoming film Barah Anna and says she learnt a lot from the "inspiring" actor. "Naseerudin Shah has been my teacher. His passion and dedication for his work is so inspiring," Tannishtha said.
Memorable moment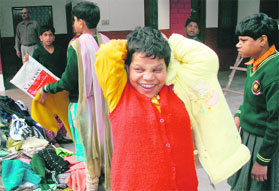 Big FM brings smile to underprivileged children on World Kindness Day. Lifestyle photo: Pradeep Tewari

Side Lanes
A little hope
Lajpat Rai Bhavan is the scene of many worthwhile activities. Named after a great Indian patriot, it runs different programmes for the underprivileged, be it health, education or tantalising exhibitions from various corners of the country. As people stream in, they do not notice an open space on the side. It is a grassed area, with a couple of broken down sheds, colourful mosaic walls, metal drawers with workers names, some paintings by the children, a few rooms used as living quarters and a modest, circular open-air stage. There are three shady trees under which are dotted five pedal sewing machines. All are operated by young men.
Kid is king
This is one place where kids can have their cake and eat it too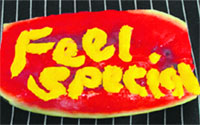 Feel special and eat special, this is the motto behind the Children Food Festival organised at Mirchi Kum, the restaurant of Hotel Maya Palace as part of their Children's Day celebrations. The festival will offer delicious continental and oriental delights from Italy, Mexico, Lebanon, China and Japan. Says Deepak Gupta, management consultant, Hotel Maya Palace, "Children of today will be decision makers tomorrow and decision making is the habit which needs to be nurtured since childhood, even when it comes to food."
Burgers, to health
Nirula's, a quick service restaurant chain, launched its new range of healthy burgers- Nutribyte. Launched by popular model, Ramneek Pantal, the Nutribyte burgers offers a low calorie option to the customers, adding to the extensive menu of Nirula's, which has something for everyone.
Jewels on your mind
Talk of tinkling trinkets and you have Dillano, a high-end jewellery brand that promises to give your style a personal touch. In an exclusive range of daily wear to cocktail wear, each piece designed here is a celebration of life.
Launch PAD
On your feet
Homme shoes exclusive French hi-end men's footwear brand unveiled its Lounge Wear collection for the fashion conscious men. Both trendy and contemporary it has style, material, content and overall presentation.