M A I N N E W S
India hits the moon
Impact Probe makes a perfect landing at 8.31 pm with Tricolour
Shubhadeep Choudhury
Tribune News Service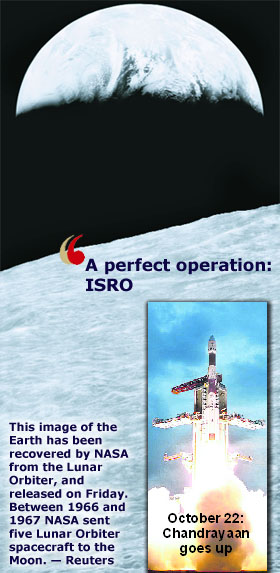 Bangalore, November 14
The unmanned Chandrayyan-1, India's first ever mission for scientific exploration of the moon, achieved a significant milestone today when the Moon Impact Probe (MIP) ejected by the spacecraft successfully hit the lunar surface at 8.31 pm after a 25 minutes descent.
The MIP was dropped on the polar region of the moon by the Chandrayaan-1 from a height of 100 km. On Wednesday, the Indian Space Research Organisation (ISRO) scientists, who are commanding the spacecraft with the help of radio control from Bangalore, had put it on a circular orbit around the moon having a height of 100 km from the lunar surface.
Former President A.P.J. Abdul Kalam, who was present at the ISRO centre at Bangalore from where the progress of the ejection of the MIP was being monitored, lauded the scientists for successful execution of the operation. Kalam, who had been credited with giving the idea of putting the MIP aboard the Chandrayaan-1, said being present at the event "was a great experience" for him.
An elated G. Madhavan Nair, chairman of ISRO, said, "We have given India the moon".
The MIP had landed on a region near the South Pole of the moon. Weighing about 30 kg, the box shaped MIP spun during the fall and hit the lunar surface with a thud. The lunar debris, thrown up as a result of the impact made by the MIP on the surface of the moon, would be analysed for the possible traces of water.
The video camera aboard the MIP worked without giving any hitch and filmed the descent of the probe on the lunar surface. The C-band radar altimeter inside the MIP is slated to measure the altitude and provide vital information for future landing missions.
The MIP also carried a mass spectrometer for giving inputs about the constituents of the extremely thin lunar atmosphere.
The data sent by all these equipments have been recorded and will be gradually analysed by ISRO. Last but not the least, the MIP also announced India's presence on the moon. The Indian Tricolour was affixed on the sideboards of the probe.
Nair said the MIP had been named "Aditya". He also added that Chandrayaan-2, which would attempt soft landing of a rover on the moon, would be launched in 2012.
Chandrayaan-1, which was launched from Sriharikota on October 22 with the help of a PSLV rocket, has 10 scientific payloads besides the MIP. However, the MIP was the only payload that was to make direct contact with the moon.