M A I N N E W S
In Rajasthan, assets just rose and rose
Politicians grew richer by more than 500% in five years
Jupinderjit Singh
Tribune News Service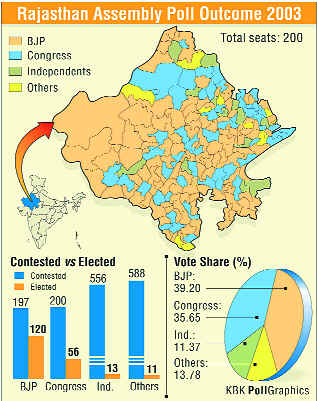 Jaipur, November 14
How much do you think assets of a politician can increase in five years? Not even a wild guess can reach the mark that BJP MLAs as well as some Congress leaders achieved in last five years. It seems being in or out of power doesn't matter much to the leaders as they become richer day by day.
The declaration of assets attached with the nomination papers has revealed the shocking figures. Rajendra Rathore, PWD minister in the BJP government, reported an increase of whopping 614 per cent. His assets value shot up to Rs 7.50 cr from mere 1.05 cr when he contested elections five years ago.
Prem Singh Bajore, another senior BJP leader, has valued his assets at Rs 28 crore as compared to Rs 5 cr in the last assembly elections resulting in the 460 per cent increase.
Assets of local bodies minister Surinder Goyal swelled to Rs 1.82 cr from Rs 45 lakh while education minister Madan Dilwar clocked Rs 1.55 cr from mere Rs 40 lakh five years ago.
Interestingly, a Congress leader, who was out of power, has recorded the highest increase in the assets filed so far. Parkash Chowdhry has reported an increase of 765 per cent in the past five years. His assets went up to Rs 8.65 cr from mere Rs 1 crore. Durga Prasad Aggarwal, another Congress leader, had a net increase of 136 per cent.
A quick survey conducted by a local organisation claimed if a common man had invested in gold during last elections, the value would have increased by 100 per cent only, in banks 50 per cent and on shares by 100 per cent and that too with the risk of major losses. So as per the statistics being in politics is the safest investment in India.
Meanwhile, a Congress MLA has surprised many by claiming his posh property in Loharu house has gone down to Rs 2 cr from Rs 7 cr where as market analysts feel the worth of 11,808 sq yard land was no less than Rs 100 cr now. The Election Commission is looking into the details, sources said.