Original diva of Indi-pop
With 200 albums under her belt and soundtracks for 150 Hindi and regional films, Usha Uthup, who has sung in 14 Indian and eight foreign languages, remains unstoppable, writes Devaki Bose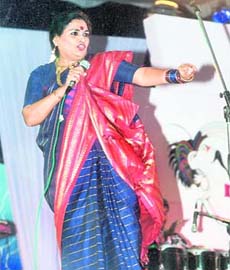 Besides singing, Usha Uthup has acted in many films and television shows
Usha Uthup, the 'Original diva of Indi-Pop' has been singing for almost four decades now, and that too in not in one or two, but hold your breath, 14 Indian and eight foreign languages. With a career that's still on the upswing, what can one say about her growing old?
Wearing a bright Conjeevaram sari and with a huge trademark bindi on her forehead, television, films, song, dance and stage shows the world over, Usha has done it all. And at 61, she's still unstoppable. From the original and the first crooner at Trincas, Kolkata, to singing at Casino in Cochin and across the world, entertaining, writing lyrics, singing the immortal Dum Maro Dum in duet with Asha Bhonsle in Hare Krishna Kare Rama in 1971, to playing Mammooty's mother in Pothen Vava, a Malayalam film in 2006, and, of course, as the real mother, and later the glamorous grandmother, she has combined the profession and the home like no other celebrity.
Her maiden name is Usha Iyer and Usha true to her religious background (Her father Sami Iyer— a Tamil Brahmin was Commissioner of Police in Bombay in the 1960s) does not hesitate to sing bhajans also, if suitably 'recompensed' and does not find that this aspect is odd for an icon of Indi-pop. When told during an interview that "But bhajan singing by Usha Uthup really sounds strange. Right?" she answered back "Come on, what's so strange about it? I have sung bhajans before in concerts and religious gatherings, although I have never cut a bhajan album. I thought I should add this category, too, in my musical repertoire. This time around, I had known this well-to-do Kannadiga family for ages, so when they invited me to sing for Ganesh Chaturthi celebrations, I readily agreed. Once again let me make it very clear that I have no qualms about singing anywhere and everywhere, and of course, for any audience"
Born on November 7, 1947, Usha is proud of her middle class background, which she reiterates throughout. "I was the fifth of six children. While I was in school, I was thrown out of music class, because I didn't fit in, with a voice like mine. But my music teacher recognised that I had some music in me and would give me clappers or triangles to play." Also Usha grew up in an atmosphere of music. Her parents used to listen to a wide range from Western classical to Hindustani and Carnatic. "Along with Beethoven and Mozart, we listened to Bade Ghulam Ali, Bhimsen Joshi, Kumar Gandharva, K.C. De, Pankaj Mullick, Manna De, Shyamal Mitra M. S. Subbulakshmi, and a host of other great classical and modern masters," reminisces Usha.
She has three sisters (Uma Pocha, Indira Srinivasan and Maya Sami), all of whom are singers. Known as Sami sisters, these sisters were the earliest Indian middle class family girls, to take to crooning in the clubs of Bombay. Singing originally for love and a bouquet of roses, the eldest Indira and Uma started their careers in the 1950s. They performed at well-known clubs and gymkhanas in Mumbai and other metros of India. They were soon the rage of Mumbai and also made an impact in Kolkata and Sri Lanka. Soon Usha and Maya joined them. Their singing also enabled them to team up with such legends as Hal Green and his band Chick Chocolate, Goody Seervai, Ken Mack, Maurice Concessio and Micky Correa. While blending beautifully they managed to retain their distinctive styles, although other than Usha, the other three sisters dropped out of the music circles after marriage.
In 1969, when performing at nightclubs and restaurants was considered taboo, Usha became the highest-paid crooner in Chennai, Kolkata and New Delhi. (Usha reminiscences "One of the clauses in my contract with Trinca's stated that 'the party should not solicit customers'. This frightened me, an innocent Malayali girl. But my chaperone Uncle Josh told me not to worry. This only meant that I was not allowed to socialise with the guests and sit at their tables. This also meant that I would have to sit alone in the confectionery next door. I can still smell the cakes and the patties as if it all happened only yesterday").
"Most of the crooners were Anglo-Indians then, and some of them like Eva and Gerry Dee were fabulous. Perhaps, I drew the most attention because I was the only crooner wearing a sari," reveals Usha. In 1971, she came out with her first long-playing record from HMV with hit songs like Scotch & Soda, Fever and Jambalaya. While Usha zoomed on ahead, virtually pioneering Indi-pop in the process, the other sisters took up different vocations.
Today, vintage Usha Uthup sings a vastly different tune — she has 200 albums under her belt and soundtracks for 150 Hindi and regional films. She has sung French, Spanish, Italian, Swahili, Zulu, Russian, Creole, Hebrew, Sinhala and Chinese. Her deep husky resonance roused the passions of a million young hearts long before the Daler Mehndis and Lucky Alis took centrestage. Accolades have come from all over the world and she has sung for Prime Ministers and Presidents alike. Indira Gandhi, Jomo Kenyatta, Daniel Arap Moi and, more recently, Nelson Mandela have all been her admirers.
Usha Uthup is also an actor, often singing and acting in films. She made a cameo appearance in Bombay To Goa with Amitabh Bachchan and Shatrughan Sinha in 1972.
Usha married Jani Uthup, who was her fan in Kolkata. The couple have a daughter, Angeli and son, Sunny. The diva is a grandmother now, and clich`E9d though it may sound, age has not withered her charm even a wee bit.
If there is a legend bridging the East and the West, and why even different parts of India, it is Usha. With her music and charm, she has transcended the barriers of caste, creed, language and nationality. "I was brought up in a cosmopolitan ambience which helped me acquire an all-India perspective," states Usha. Her sister Uma married a Parsi, Usha a Christian — Jani Chacko Uthup, and their brother Shyam's son-in-law is a Muslim. — MF