Farewell maharaja
Abhijit Chatterjee
AS he walked away into the sunset with a first ball duck in the fourth Test against Australia at Nagpur, Sourav Ganguly left behind a legacy which future captains would love to emulate and all players who turn out for the country keen to follow. But he goes with the satisfaction that he was a member of a team which put it across the mighty Australians, unbeaten in a series for three years.
Nasri fires for Gunners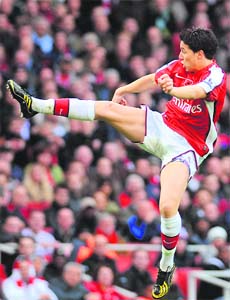 Arsenal's Samir Nasri scored a brace in the game against Manchester United to give his team and manager some much-needed breathing space in the English Premier League, at the Emirates Stadium, in London Photo: Reuters
Volleyball's turbanator
Vaibhav Sharma
Equality is a myth and Indian sports does nothing to vilify this insinuation. An international cricket player needs to hide himself behind dark glasses, a stubble, a hat and lot of other garb, for the fear of being mobbed. On the other hand, for someone like Balwinder Singh, a regular with the Indian national volleyball team, both at the junior and senior level, recognition is a rare privilege.
Punjabi spice for Canadian football
Ranveer Chandy
Anoop Josan's rise on the footballing circuit has brought pride to her family and her community across the world. She recently passed the final roster cuts for Canada's U-20 women's soccer team. Anoop will compete and showcase her talents in the grandest and most prestigious tournament held in the world, The FIFA Women'S World Cup, being held in Chile this month.
MAIL
Kumble, jumbo contributor
Anil Kumble the greatest Indian spinner will always be remembered for his skill of turning the ball by tiny deviation to claim 619 wickest in the cricket test matches. The cricketing world in Kumble,s 18 years glittering career has often seen his fighting qualities. Most of Kumble's dismissals were leg before or clean-bowled.