Clay,cad and cinema
Mythology is out. Mushy is in. The success of Roadside Romeo has spurred more filmmakers into animated action
Hmmm…so you loved the roadside antics of a street dog in Roadside Romeo and are hungry for more? Well, there is just the right amount of animation masala to treat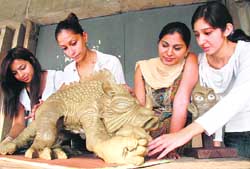 the Indian appetite, going by the skyrocketing speed of its success. This 12-billion worth industry is running in the fast lane and is expected to touch the 50-billion mark by next year and Chandigarh is ready for its share. The Indian Chapter of Association of International Du Film D' animation (ASIFA) celebrated International Animation Day in the tricity by showcasing the process of producing an animation film and the techniques needed for making it real.
Participants try their hands at clay modelling. Photos: Pradeep Tewari

Shayari nahin asaan, yeh hunar toh aata hai Khoon mein, Aei Tariq Ungliyan dubone sey
Of all the literary realms, the art of poetry is not so easy to grasp. Yet, over 45 accomplished poets from India and foreign lands, now in the city to participate in the International Festival of Poetry at Randhawa Auditorium-26, fairly negates the perception of poet Tariq Aziz's above couplet.

Food for verse: Participants at the poetry fest bond over a meal. Photo: Pradeep Tewari





Mujhse dosti karoge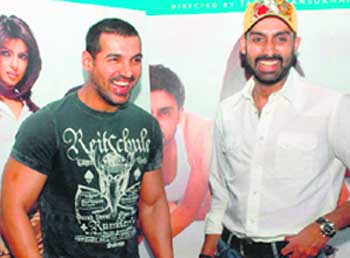 Man to man: Bollywood actor John Abraham along with Abhishek Bachchan during the promotion of Karan Johar's film Dostana in Mumbai.
(Right) Baby Blue : Bollywood actor Priyanka Chopra all poised for the promotion of Dostana
Waiting for action now
Harman Baweja's birthday wish was an action role
Harman Baweja, who turned 28 on Thursday, says he's happy with the films in his kitty and his birthday wish is to do an action film.
Rising in recession
There was a different kind of action elsewhere as Sanjay Gupta gifted a Rs 600,000 watch to action director Tinu Varma
Filmmaker Sanjay Gupta has joined the bandwagon of Bollywood stars known for giving exorbitant gifts to their colleagues. He recently gifted a Rolex watch worth Rs.6,00,000 to action director Tinu Varma for his work in upcoming movie Acid Factory.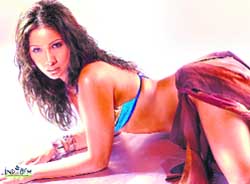 Wrong foot first
In her Bollywood career spanning almost eight years, actor Kim Sharma has managed just one hit, Mohabbatein, and she has no qualms admitting that it might be a result of her wrong selection of films. "I have possibly made wrong choices in the films that I've done. But I feel as an actor, I can only do my job. I can't control people's reactions. And I don't spend any time wondering why a certain film goes wrong. It's okay," Kim said.
Bollywood better
Bollywood inspires us more than Hollywood, says Colombian filmmaker Jorge Echeverri
Colombian filmmakers are more inspired by Bollywood films than Hollywood ones, said filmmaker Jorge Echeverri, adding "old Hindi classics like Hare Rama Hare Krishna and Mera Naam Joker are widely watched in our country".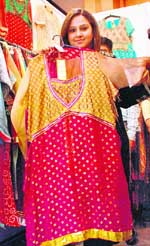 Brides made
Wedding Asia's fourth edition brings enough dazzle to keep the mood upbeat even in the midst of the meltdown
It's a staggering Rs 90,000-crore business that has no motherboard or keyboards attached to it, instead it's about gems, garments and groceries. Yes, you guessed it right, we are talking about the Big Fat Indian Wedding Industry that is growing at an impetuous rate. And bringing a taste of it to the tricity is 'Wedding Asia,' an exhibition-cum-sale of clothes, jewellery, accessories, a few electronic gadgets and, last but the most important, honeymoon destinations, all at Taj-17. A three-day event that saw a brigade of women on Day One, has almost everything that you would want for a wedding trousseau.

Capture the moment
Strike a pose, say cheese and here we go… click click. And one can go on clicking till one gets the picture-perfect shot. It's that simple and easy. Of course, it has to be, as you don't need today those monstrous cameras placed on tripods and big lenses. Instead, at your disposal are sleek, lightweight and more importantly mega-pixel cameras in incredibly wide variety — indeed incentive enough to take up photography as a hobby. And if you too are keen on pressing the button, then Canon image fest is the place to be.

Launch PAD
Vintage comfort
Maspar, the well known home fashion brand brings alive the aura of bygone era in its most recent collection Vintage.

Bon Appetit
Amla allure


Kandla Nijhowne
There's nothing commonplace or aam about the unglamorous looking amla. As children, we scoffed at them, as they lay spread out on clean sheets in my grandma's courtyard, being dried and preserved. Sour, astringent, bitter and pungent, they tasted ghastly to our young tastebuds. You want the truth? They still do! Just that one has wizened to their multiple benefits now! Amla is a concentrated source of Vitamin C, with each little orb, packing a punch 20 times that of an orange! The Vitamin C in amla helps in dilating the blood vessels and thereby reducing blood pressure and stabilising blood cholesterol levels. Considered to be the elixir of good health, they form an indispensable part of the ayurvedic and unaani schools of medicine. What makes them even more extraordinary is that unlike many other natural sources, the Vitamin C content in amla does not diminish with cooking! The principal fruit used in Chyavanprash is aamla to which are attributed near magical powers.