PUNJAB

HARYANA

JAMMU & KASHMIR

HIMACHAL

REGIONAL BRIEFS

NATION

OPINIONS

LETTERS

BUSINESS

SPORTS

WORLD


M A I N N E W S
J&K votes

Trend-setting phase-I today
Will drive the atmospherics of elections in the valley
Aditi Tandon
Tribune News Service


Bandipora at a glance
* Assembly constituencies: Gurez, Bandipora, Sonawari
* Voters: 1,86,069 (96,848 males, 89,221 females)
* Candidates: 47 (Sonawari 22; Bandipora 19; Gurez 6)
* Polling booths: 237 (50, hypersensitive; 170 hypersensitive; rest normal)
* Maximum booths: 111 in Bandipora segment
* MLAs 2002 -- Bandipora: Usman Majid (Awami League); Sonawari: Akbar Lone (NC); Gurez: Nasir Ahmad Khan (NC).
* Polling percentage 2002: Gurez 76.50; Bandipora 31.27; Sonawari 56.51
Bandipora, November 16
When you see more troops than people on the roads, rest assured it is election time in the Kashmir valley. This year, too, the security forces are not taking any chances.
Ahead of first phase polling in north Kashmir's Bandipora district tomorrow, they have already moved in, and taken positions.
Even the Wular Lake's periphery has been sufficiently garrisoned lest anti-election forces sneak in …. Poll bugle in Kashmir has been sounded.
But the voters are yet to join the chorus — which makes the first phase worth a watch. It is super critical, mainly for its potential to set the trend for other phases, and create an atmospherics for elections. Nasir Saugami, political secretary to National Conference (NC) president Omar Abdullah, admits: "The first phase will determine the future voting pattern in the valley."
Political observers agree. Bandipora, with its severe topographical disadvantages, high threat perception (out of 237 polling booths, only 25 are normal), low electioneering, and inclement weather poses a huge challenge both to analysts as well as the 47 candidates in fray from the three assembly segments of Bandipora, Sonawari, and Gurez.
The region has been a former stronghold of Ikhwanis (counterinsurgents) who once helped the Army nail active militants. Usman Majid, the last MLA from Bandipora, and a former Ikhwani, is seeking reelection from the segment this year.
Voters say Majid still enjoys an edge due to his history. In his league is Imtiaz Parray, challenging the NC's last MLA Akbar Lone in Sonawari. Imtiaz is the son of Kukka Parray, the chief commander of Ikhwanis, who was gunned down in 2003; he had lost Sonawari to Lone in 2002.
Even though counterinsurgency is over, residents allege the Ikhwanis still enjoy clout in the area, and Army's sympathy; some are known to have private armies. Besides, the presence of security forces will be a major factor impacting voter turnout. There have been cases of the security personnel asking people to vote in 2002, and show ink marks as a proof hitherto.
No wonder the area witnessed heavy turnout in last elections — Gurez at 76.50 per cent; Sonawari at 56.51, and Bandipora at 31.27 per cent.
But the situation this time is different, says Gul Mohd Wani, a political expert: "There is negligible militant presence; the Amarnath issue has polarised voters, the separatists are active with boycott calls, and the weather is inclement. A good voter turnout in such conditions will impact the other phases positively. The role of security forces will have to be watched in context of free and fair polls."
Another worrying factor this time has been low-key electioneering. "All serious indicators of elections - rallies, distribution of poll literature, et al are missing, which is why we can't take even wild guesses. We will have to see which way the floating votes go," Wani says, adding the Hurriyat's "Bandipora Chalo" call tomorrow, and the state's response to it, will also determine voting patterns: "If the Hurriyat is obstructed, voters will be psychologically affected."
Politically, too, tomorrow's phase is significant, with Sonawari seeing the maximum candidates - 22 - among all 10 segments. Bandipora is next with 19, while Gurez has six. As against Sonawari and Gurez, which returned NC candidates to the last assembly, Bandipora elected Majid, a former Ikhwani.
At stake in Bandipora is the reputation of big guns — Majid, an independent; Ghulam Rasool Mir of NC, a two-time MLA, dropped in 2002 to Javed Shah, another Ikhwani who lost and was later killed; Nizamuddin Bhat, a long-time political worker and PDP candidate; and Habibullah Bhatt, ex Congress MLC, fighting as an independent after his nomination was rejected. It lacked the Congress' authority letter.
State Congress president Saifuddin Soz has, however, said the Congress is supporting Bhatt, who had lost in 2002 to Majid by 253 votes.

Candidates bloom amidst anti-poll gloom
Kumar Rakesh
Tribune News Service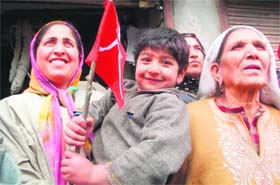 National Conference supporters at a rally addressed by party president Omar Abdullah at Ganderbal in Srinagar on Sunday. Tribune photo: Mohd Amin War
Srinagar, November 16
The streets of Kashmir are not really resplendent with the myriad colours of electioneering and nor does the common man seem too enthusiastic, but a curious piece of statistics is embarrassing those shouting from rooftops that the prospective voters have no love lost for the impending elections.
As many as 47 candidates have been left in the fray for three Kashmir seats which go to polls along with seven other constituencies of Jammu and Ladakh on November 17.
In 2002 elections, when all was supposedly well with the valley and Hurriyat was down in the dumps, only 17 persons were in the fray.
Observers say the valley will see a huge increase in the number of candidates this time round once the final date for withdrawing nomination for the seats going to polls in the last phase is over.
Against six, five and six persons contesting from Bandipore, Gurez and Sonawari, respectively, there are 19, 16 and 22 candidates in fray this time, says deputy commissioner Sheikh Mushtaq.
"I believe it is because of increasing belief among people that elections are for the good of society. There is of course anger for whatever has happened in the last few months but elections are not an impediment to solution of large political issues facing the state," says senior PDP leader Nizamuddin Bhat.
There is also another dimension to this whopping increase in the number of contestants, and that is the waning fear of militants among prospective candidates. Separatist leaders might have been struggling in the run up to 2002 elections but militants were still a potent force.
In fact, militancy related casualty figures had touched a high in 2001 and many political workers, especially of National Conference, and a few willing candidates were killed.
"An independent candidate was the soft target last time. This time they are more confident, though, apprehensions are always there in the valley," an official connected with elections says.
Relatives of Iqbal Jan, whose parents are no more and who is fighting elections from Bandipore while lodged in the Tihar Jail on militancy charges, say they believe people's verdict would help them when nothing else seems to be working.
A few years ago, he would have been a bonding cause for militants and their political mentors sitting in Srinagar.
"I don't know whether elections are good or bad for Kashmir but it does empower you," Abdullah, a local, campaigning for Iqbal says.

Websites that disappoint J&K voters
Naveen S. Garewal writes from Surankote
On the eve of the first phase of poll, the office of the Chief Electoral Officer (CEO) is still unprepared with the details pertaining to the candidates in the fray and other vital information.
Even if they are, this is not reflected on the official website where the page on "Candidate Details" says, "This page is being updated", thus denying the voters the opportunity to make a well informed decision about the choice of candidate.
While, the CEO has provided incomplete contact details about senior officials, the booth-level officials have been totally exposed by publishing their occupation, posting and names on the website along with their mobile numbers.
"This can only be used by militants who have given a call for boycott to threaten the officials, other than that this will serve no purpose", an official involved with the poll process said.
Even looking at the details about the constituencies in particular districts, it appears that no effort has been made to make any corrections. For example, the spellings of Rajouri have been spelt at different places as "Rajouri" and "Rajauri".
To top it all, the "Kalakote" constituency that falls under Rajouri has been mentioned to be a part of Poonch that goes to poll on November 17, whereas the poll here will be held on November 23. Also, it has been wrongly spelt as "Kalakot".
Coming from the CEO office, it only indicates the state of preparedness of the department. However, the strongest objection has come from various quarters about the failure of the CEO in uploading the affidavits of the candidates.
Chief Election Commissioner N. Gopalaswami during his recent visit to the state had passed specific orders in this regard. The link to the affidavits of the candidates on the official website of the CEO (www.ceojammukashmir.nic.in) reads "This page is being updated".
The situation is no different when it comes to the official website of the Election Commission of India (www.eci.gov.in). That too has very scant data to reveal. The list of candidates for eight of the 10 constituencies going to polls is missing. The ECI website only has data available for the Zanskar and Kargil constituencies, while a click on Bandipora, Sonwari, Gurez, Leh, Nobra, Poonch, Surankote and Mendhar constituencies draws a blank.