Coat unquote
Jazzy jackets, elegant overcoats and colourful mufflers — celebrities make their fashion statement
Who says the winter is all about layering with woolies? It's in fact about making a style statement and you can do it with élan.



n Combination theory
n Over and in
n Layers of fun
n Comfort zone

Off the beaten track
Off-roading is the latest terminology, which has been added to our vocabulary. The city, saw one more such rally this Sunday.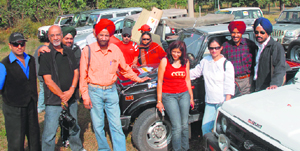 A rough terrain is something not usually associated with City beautiful. But then for those who have an eye and a heart for adventure, Chandigarh is the place to be.

n Number demystified
n Safety net

4X4 club members get together for an adventure trip. Photo: Pradeep Tewari

Inside story
Manpriya Khurana attempts to unclutter the clutter in a woman's purse
You tug onto them as if they contained a decade's earning, anything required and there is endless search in further endless number of pockets, but despite carrying it so close hardly ever does the girlie brigade find anything in their bags (or so it's said), before spending good five minutes! Forget that, but what all do they keep in their bags?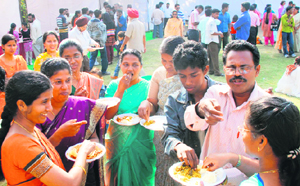 Eat for a cause
Food and charity, both
got together at the South
Indian food festival
An authentic South Indian
Food Carnival was organised
by the Orthodox Syrian Church
Society on St Mary's School
premises on Sunday.



Southern hue

: Visitors enjoy favourite Keralite dishes. Photo: Pradeep Tewari



SOLACE FROM SPIRIT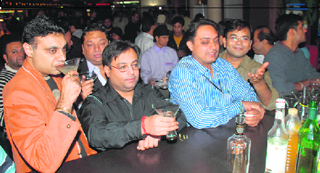 Guests Bond over a peg at a cocktail party held by Smirnoff at PVR Centra Mall before a special screening of Quantum of Solace on Saturday night. Photo: Pradeep Tewari
Sound byte
From Sholay to Om Shanti
Om, Kuldeep Sood has
grown with the industry
When it comes to Bollywood, those we see are the stars, sometimes the director and now even the choreographers but that's not all what goes into making a film.
So natural
'Silent Fascinations', a ten day exhibition of paintings by Ludhiana based artist Navpreet Grewal Dhillon opened at the Artizen Art Gallery Phase XI in Mohali today.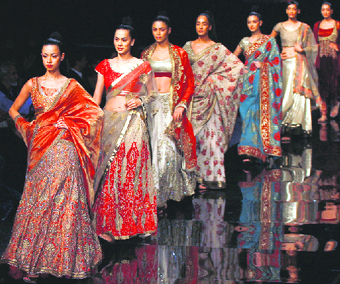 Models present creations by Varun Bahl during a
fashion show at the Chivas in Fashion Tour-08 at
New Delhi. Photo: Reuters
Kids and calories
Here is a camp for kids that aims to expose kids to a healthy lifestyle
With everyone around talking about size zero and six pack abs, a very important segment of the society getting conveniently ignored is the kids.
Breaking news
Low-energy breakfast equates with healthy weight
People who eat low energy dense breakfast have improved diet quality, and may have a better ability to maintain a healthy weight.
Perfect smile
Oral - B's latest offering, Oral - B 1-2-3, aims to provide it all. With its three quintessential features viz. cleans teeth, cleans tongue and soft on gums, and competitive pricing, at Rs 20, the toothbrush ensures that it provides appropriate along with affordable care resulting in healthy teeth and gums.
Winter woes
Every season comes with its own pros and cons. If the sweltering sun and harmful ultra violet rays are a problem in the summers, then the winter has its own share of worries," says Dr. Swami Das Mehta, skin specialist with General Hospital-16.
Body wise
No time for pause
What is menopause and what are its symptoms? Menopause is the time in a woman's life when her period (menses) stops. It is a normal change in a woman's body.
SRK's success secret
Bollywood star Shahrukh Khan, who has a penchant for acting with debutante, says that he has evolved as an actor after working with newcomers.
Charlize for peace
Hollywood actress Charlize Theron has been appointed as United Nations messenger of peace for her contribution in ending violence against women.
Uncool confessions
Jennifer Aniston's public outburst in Vogue magazine, where she described Angelina Jolie "uncool," hasn't gone down too well with ex-hubby Brad Pitt.
Tragic times
Mourning Jennifer Hudson has thanked her fans for their support following the tragic deaths of her mother, brother and seven-year-old nephew.
Robes in recession
Fashion designer Rohit Gandhi called on the fashion fraternity to come up with affordable and wearable clothes in times of global turmoil and recessionary trends.
Paparazzi problems
American rapper Kanye West was arrested after he ended up in a brawl with a photographer outside a nightclub in Newcastle on November 14.