Guru Gyan
SHOs to get mentors for better policing
Amritsar, November 18
An SP or DSP-rank official would be appointed as a mentor to inspire the station house officers (SHOs) of various police stations in the district to bring out better quality of work from them and to ensure transparency in the police system.
Red Cross DAV excels in Special Olympics
Amritsar November 18
Eight students of Red Cross DAV School for the mentally and physically challenged here brought laurels to their school bagging 21 medals in the recently concluded Punjab State Special Olympic Games held at Ludhiana.
PNB reaches out to students
Amritsar, November 18 Punjab National Bank here has launched a pan-India campaign for school students to create awareness about banking services and to develop their habits for opening bank accounts.
Navigational surgery expert felicitated
Amritsar, November 18
German-based Aesculap Academy felicitated Dr Avtar Singh, a leading orthopaedician, and joint replacement surgeon of northern India, for completing more than 500 computer-assisted knee replacement surgeries during the past three years. Of these 200 surgeries (about 40 per cent) were performed this year.
Fund Factor
Finally, Rs 25 cr released for elevated road
Amritsar, November 18
After four-month-long correspondence, the state government finally released Rs 25 crore to complete the ambitious Rs 140-crore elevated road project here.
Band of brothers spreads joy in Maqboolpura
Amritsar, November 18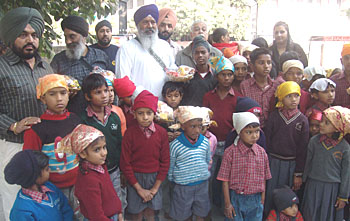 Didar Singh and Iqbal Singh, NRI brothers from the UK, lit up a glum day in the life of the students of the Citizens Vidya Mandir at Maqboolpura. The philanthropist brothers organised a small party and enjoyed the celebrations for the students of the school situated on the outskirts of the city.
NRIs distribute sweets and woollens among the underprivileged kids in Amritsar. — A Tribune photograph

Campus Beat
DAV grads bag placements
Amritsar, November 18
Rohini Duggal of the BBK DAV College for Women has bagged the top position in the eighth semester of the bachelor of multimedia examination conducted by Guru Nanak Dev University securing 98 per cent marks.
Youth should do their bit for preservation of culture: Brahmpura
Tarn Taran, November 18
Rural development and panchayt minister Ranjit Singh Brahmpura has asked the students to come forward to preserve the rich Punjabi cultural heritage. The minister was speaking during a seminar on Punjabi literature held at Mata Ganga Girls College here today. The function, organised by the Punjab language department, was presided over by Iqbal Singh, SSP Amritsar (Rural).
Huge haul of pirated CDs; two arrested
Amritsar, November 18
On a tip-off, the district police seized hundreds of pirated and pornographic CDs after conducting raids on Sethi Electronics in Ram Bagh and Sonu CD Centre, Ravi Dass Road, here.
Jaspreet gets Priyadarshani award
Amritsar, November 18
Woman artist Dr Jaspreet Kaur has been selected for the Indira Gandhi Priyadarshani award 2008. She had the distinction of making a hand carved three dimensional wall hanging replica of the Golden Temple.
Puran Singh award goes to Bhupinder Singh
Amritsar, November 18
Dr Bhupinder Singh, department of Punjabi, Khalsa College, was honoured with the Bhagat Puran Singh award for his contribution in the academic, social and cultural fields.