Cancer: the warning signals
Dr S.M. Bose
Cancer is spreading like wild fire. In affluent countries, after heart diseases, it is the second biggest killer. Even in developing countries like India, its incidence is increasing everyday. It is estimated that in our country 10 lakh patients of cancer are seen every year.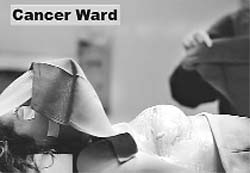 Cancer, when it invades the body, produces some responses which had not been there earlier, and which a patient with keen observation feels and observes. These are warning signals of cancer, the presence of which should lead a person to his doctor for a thorough medical examination and for investigations if deemed necessary.
Symptoms are feelings or problems experienced by the patient. This can be an indication of a disease that may bring the patient to a doctor. Pain, shortness of breath, cough, palpitation and bleeding are some of the possible symptoms. These may be felt or experienced only by the person having the problem.
Signs are indications or findings which are observed by the doctor or the nurse in a patient during a clinical examination. Abnormal heart or breath sounds, an enlarged liver or an abnormal swelling in any part of the body are examples of signs.
Cancer in any part of the body might give rise to symptoms or signs which are not specific to cancer only, but may be due to a number of benign or non-cancerous diseases. Any long-standing symptom, especially in the elderly, should be brought to the notice of a doctor because of the higher possibility of a sinister cause. Chances are that the symptoms may not be due to cancer, but as correctly said, "Ten false alarms are better than one delayed diagnosis".
The UICC, an organisation of WHO dedicated to cancer, has listed the following warning signals for the detection of cancer:
Change in bowel or bladder habits.
This may include a feeling of constipation or diarrhoea in comparison to the past normal habit of bowel evacuation. This may be an early indication of cancer of the large intestine. Similarly, a change in the habit of urination in the form of frequency, thinning of the urine stream, retention of urine and bleeding along with urination may be an early sign of cancer of the urinary system.
A sore that does not heal
A sore or wound anywhere in the body which refuses to heal in two weeks time in spite of treatment should warn a person that the sore may not be a simple one.
Unusual bleeding or discharge from any source
Bleeding along with stool or urine, with vomitus or cough, from genitalia, is a good reason for a complete and thorough medical check-up to find out the exact cause of bleeding. It should be kept in mind that the amount of bleeding or the frequency of bleeding cannot decide whether the bleeding is or is not because of cancer.
Thickening or swelling in breast or anywhere else in the body
The appearance of a new swelling or thickening in any part of the body, especially in the female breast, or discharge from the nipple or change in the shape of the nipple, call for a consultation with a specialist.
Indigestion or difficulty in swallowing
Indigestion, pain or uneasiness in the upper part of the abdomen, loss of appetite, nausea or vomiting without any known reason or difficulty in swallowing are the early signals that may show the possible presence of cancer.
Obvious change In wart or mole
Each one of us have got a wart or a mole somewhere on our body but if any of these shows an apparent change from its earlier shape, colour or size in the manner that it becomes rough, starts growing in size or starts bleeding, then consult a specialist to rule out the possibility of cancerous change.
Nagging cough or hoarseness of voice
Cough, which lingers on for a long time in spite of adequate treatment, should be thoroughly looked into to rule out the cause for alarm. Similarly, hoarseness of voice lasting for more than two weeks should be looked into carefully.
It should be clearly understood that none of the above-mentioned warning signs in itself confirms the diagnosis of cancer in any part of the body. It merely warns the person concerned that if the signal persists for more than two weeks in spite of proper treatment, then he or she should consult a specialist for clearing the doubt of possible cancer.
Such an awareness, both on the part of the patient and the treating doctor, can make it possible to diagnose the disease in its early stage when one can hope to have significant relief.
The bottom line is to suspect the problem, go to a specialist and get yourself examined and investigated to establish the correct diagnosis.
The writer, a former Senior Professor & Head of Surgery, PGI, Chandigarh, has authored books on cancer.