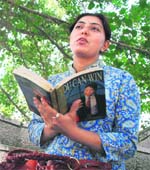 Despite odds, Kargil girl sets example
Jammu, November 18
The far-off pockets of the state are still the same as they were 60 years ago. Though steps are being taken by the government to raise the infrastructure, the scenario is grim, especially when it comes to the education of girls. Disket Angmo, a student from Kargil tehsil belonging to Garkon village, is the only girl from her entire clan who is doing graduation.
Monkeys make life miserable
Udhampur, November 18
If it was militancy earlier which forced people to leave their homes, it's monkeys now who have made life miserable in the city and various other regions.


From on high : gazing down, Jammu city looks resplendent and at peace with itself as traffic crawls over bridges and on roads on a sunny day. Tribune photo: Inderjeet Singh
Acute respiratory infections in Gawran valley
Srinagar, November 18
Diseases and deficiencies like the Acquired Immune Deficiency Syndrome (AIDS) pose serious threat to people at national level but people living in the far-off areas in the Kashmir valley face health problems that are non-existent in other parts of the country.
City of temples or janjghars ?
Jammu, November 18
Jammu is called the city of temples since scores of historical shrines dot the winter capital of the state. And it would not be wrong if one calls it the city of janjghars (wedding halls).
Total literacy
Udhampur village shows the way
Udhampur, November 18
Even though government agencies have been pumping huge funds to achieve total literacy in Jammu and Kashmir, their efforts have not shown encouraging results.
Prisoners turn learners
Jammu, November 18
Babli, a murder convict undergoing life imprisonment, besides two other undertrials, Kulwant and Rachna, are becoming enlightened souls within the confines of a Jammu prison.