Tales of two cities
Sialkot to Delhi
The dawn of Independence in 1947 brought with it great hope for both India and Pakistan but the ensuing communal riots and the large-scale displacement of people also made this the darkest hour in the subcontinent's history. Tales of Two Cities is the story of Independence, the Partition and migration as told by Kuldip Nayar and Asif Noorani, whose families were uprooted and forced to start new lives in new states. Excerpts:

I did not want to leave Sialkot. This was my home. I was born and brought up here. Why could not I, a Hindu, live in the Islamic state of Pakistan when there would be hundreds of thousands of Muslims living in India? True, religion was the basis of Partition. But then both the Congress and the Muslim League, the main political parties, had opposed the exchange of population. People could stay wherever they were. Then why on August 14, 1947 was I unwelcome at a place where my forefathers and their forefathers had lived for decades?
Kuldip Nayar, an eminent journalist, was 24 years old in 1947 when he, along with his family, had to leave Sialkot in the wake of riots and violence. Though the family had initially decided to stay in Pakistan, the communal fire left them with little choice and they had to leave everything they owned there to come to India as refugees.

Our family had other reasons to stay back. Most patients of my father, a medical practitioner, were Muslims. My best friend, Shafquat, with whom I had grown up, lived in Sialkot. At his mere wish I had tattooed on my right arm, the Islamic insignia — the crescent and star. I was a graduate in Persian. Pakistan had declared Urdu as its national language, with which I felt at home. We had a large property and a retinue of servants. Where would we go if we were to uproot ourselves?
Sialkot looked no different on Pakistan's Independence Day, August 14. The morning was like any other morning. My father went as usual to his clinic long before we ate our breakfast. But then my brothers were on vacation while he was working. In the Trunk Bazaar, where our two-storeyed house stood, it was like any other day, with tongas plying with more passengers than they could carry. The pedestrians on the street were few in numbers. It was too early for the traffic to pick up its speed and noise.
My father returned around 1 pm. It was unusual. He normally came home by noon. My mother was a bit tense. 'These are not good times,' she muttered, when we heard his familiar, heavy steps on the staircase.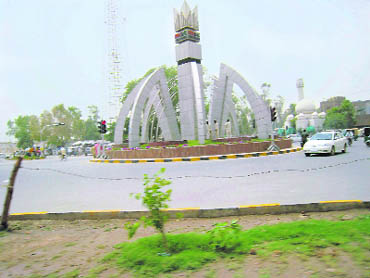 Sialkot withstood the initial surge of rioting in 1947,
but not for long

We feared for the future. What if there was a large-scale attack on Hindus? What would we do? Before we could sort out anything, we heard someone climbing the stairs quickly. Our first reaction was to run and close the door, but it was too late.
Arjan Das, the district jail officer, walked in. He was a family friend. 'You cannot stay here,' he said. 'This place is not safe any more. I am taking you to my house'. The same Das supervised the hanging of Mahatma Gandhi's assassin, Nathuram Godse, a few years later.
His voice was comforting. Nobody questioned him. Nor did anyone want to stay back in the house. We followed him quietly, leaving the food on the table untouched. My mother hurriedly packed a suitcase and we rushed down to the car Das was driving. It was a small vehicle and we had to sit on each other's laps to fit in. We saw nothing unusual on the way to the jail, which was located on the outskirts of the city. We breathed a sigh of relief when the car rolled into the jail's premises and the big iron gates were shut behind us.
Das advised us to leave Pakistan as soon as we could. He had heard from his Muslim colleagues that they would allow neither Hindus nor Sikhs to stay in the city. My father and I thought that Das was panicky and exaggerated the situation. Both of us wrote him off as too pessimistic and too scared. But he turned out to be right, like my brother, Rajinder.
***
I had never imagined that the road would be so choked with people. It looked as if the whole of humanity was on the move. Our jeep (I was accompanying the family of a Major) was in the midst of a sea of humanity, inundating every inch of space — the road, the fields and the elevated rail-track. All streams except one were flowing towards India. That one was of Muslims coming from India with skimpy belongings on their heads. Hindus and Sikhs going towards India too had very little luggage. People rushed towards us. The jeep came to a halt. Some determined men and women stood on the road. They wanted us to hear them.
The scene was tragic. It was an avalanche of migration. Lakhs of people were on the move on both sides. None had expected to leave home. None wanted it. But none could help it. The two countries blamed each other as they tried to grapple with this and other chaotic problems within hours of the heady atmosphere of Independence.
An old Sikh, with a flowing beard flecked with grey, nudged me and tried to hand over his grandson. "He is all we have in the family," he begged. "Take him to India. At least he should live." A middle-aged woman tried to put her child in the jeep. "I will trace you and collect my son," she said. But how could I take their children with me?
Every human being has limits to how much he or she can take of grief or joy, good or bad. I reached the level where I could take no more. My feelings had been dulled. It was as if I was left with no emotions to react. A story of brutal murder or gang rape did not move me any more. I just listened to gruesome happenings as if going through an exercise. Any narration, however touching, was like a narration I had heard before. The cruelty was the common factor. But at least some of them had got their stories off their chests. They probably felt better and withdrew to make room for the jeep to pass. It was still a long way to the border. The Major did not want to lose the daylight. The jeep sputtered into motion. I looked back. I could see outstretched hands asking for help.
The spectacle jolted me out of my wishful thinking that things would normalise and permit us to go back. I realised there was no going back. It would be a new life, which I would have to build in India from scratch. I wished I could tell this to my father, who at the age of 65 would have to start all over again. His lifetime earnings were all in Sialkot, the property, his medical practice and everything. We were paupers.
Strange, no leader had prepared us for this eventuality. Soon after Partition, their speeches talked about the tragedy but gave us the impression that there would be no wholesale change. Only now did I realise that a sheltered upper middle-class life had lulled us into unreality. This was the biggest migration of people in history but no one had anticipated it. As the jeep drove along the GT Road, I saw dead bodies on both sides, the smouldering remains of burnt vehicles and pieces of luggage strewn all over. More hideous was the sight of children impaled on swords or spears and women and men cut to pieces. We had killed one million of one another and uprooted twenty million. Temples, mosques and gurdwaras had been demolished in hundreds. The subcontinent's composite culture and pluralistic society going back hundreds of years lay in tatters.
It was late in the afternoon when the jeep reached the outskirts of Lahore. It halted there. We were told that a caravan of Muslims had been attacked at Amritsar and that the Muslims in Lahore were waiting on the roadside to take revenge. We got down and waited in fear and silence. There was some stray shooting in the distance. The stench of decomposed flesh from nearby fields hung in the air. We could hear people shouting: Allah Ho Akbar, Ya Ali and Pakistan Zindabad. But it was far away. We set off again.
There was nervousness as we approached the border. And then we heard Bharat Mata ki Jai. We drove past the hurriedly erected whitewashed drums and the Indian flag on a bamboo pole that marked the border.
Asif Noorani, distinguished Pakistani journalist and critic, was only five years old at the time of the Partition. He remembers the riots in Bombay. But his family weathered the storm and lived in Bombay for three more years before his father decided to migrate to Pakistan.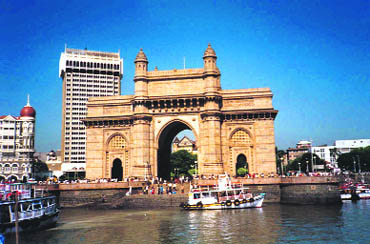 The cosmopolitan ambience of Bombay has made Asif Noorani return to the city of his birth several times since 1950

FOR someone born in 1942, Independence and Partition remain a somewhat hazy memory. However, I distinctly remember being taken by my father to see the illuminations on some buildings. We enjoyed the view from the upper storey of a double-decker bus in Bombay. That was perhaps on the eve of Independence. I also recall the parade of the armed forces, a year later. The smartly turned out soldiers passed through Pydhonie, not too far from where we lived.
My pre-Independence memory is restricted to raising the then popular slogan "Up, up the national flag; down, down the Union Jack" with other boys, after school hours, for many days. The only Jack I knew in those days was the one who went up the hill with Jill, for that was my favourite nursery rhyme. I am sure most of the slogan-raisers from the missionary school, St Joseph's High School at Umerkhadi in Bombay were, like me, unaware of the meaning of the slogan and even the significance of Independence. When someone asked me why I was chanting the slogan, I said because all my friends were doing it too. I was at that time in what they called the Infant Class, the junior most in the school.
***
I have also not yet forgotten the hysterical screams of a woman in the neighbourhood whose younger son was murdered in a Hindu locality. He and his elder brother were returning home with their Christian friend after watching a movie at Opera House, when they were waylaid by a Hindu mob that wanted to settle scores with the Muslims. The three boys declared themselves Christians and were allowed to go. The elder brother and his friend walked fast and the younger brother, feeling insecure, shouted "Khuda ke wastey mujhe akela mat chodo." (For God's sake don't leave me behind). He was caught and clubbed to death, as the other two boys jumped into a moving bus.
But the defining moment in my thinking came when I was travelling in a bus. Communal riots had just ended but there was tension in the air. In those days eight passengers were allowed to stand on the lower deck of a double-decker. Like my parents I too was standing in the bus when a man in a dhoti offered to share his seat with me. My father told me to go and sit with the distinguished looking man but, out of fear, I refused to go to him. What was worse, I told my parents: "This man is a Hindu, he will kill me." The man smiled benignly and told me in a soft tone: 'Murderers are mawalis (the Bombay word for scoundrels).
They are neither Hindus nor Muslims; they are simply murderers. He seemed so disarming that I agreed to sit between him and his wife. My two fellow travellers asked me about my school and the games that I enjoyed playing.
The lady stroked my cheeks and my hair. My perception of the Hindus changed.
This incident and the writings of progressive writers like Krishan Chander, Rajendra Singh Bedi, Khawaja Ahmad Abbas and Ismat Chughtai, which I read several
years later, made my outlook completely secular.
***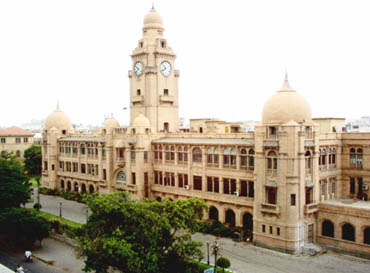 The KMC building in Karachi, the city where Asif Noorani's family settled after migrating from
Bombay in 1950

In 1950 my father, despite my mother's disagreement, decided to move to Pakistan. By that time free movement from India to Pakistan and vice versa had ended. The authorities on both sides had imposed what was known as a permit system. Passports and visas were to be introduced later. But before one could get the permit to move to Pakistan one had to get a no-objection certificate, which was a long process. There were many tense moments, both in struggling against the bureaucratic rigmarole and at the medical store, with Popatlal becoming more and
more difficult.
The tension began to show on my father, who was always lean and prone to sickness. Eventually, thanks to Mrs Fatima Ismail, a disciple of Mahatma Gandhi and a Congressite to the core, the no-objection certificate was obtained without further delay.
My mother had by that time become reconciled to the idea of leaving India and her family for good.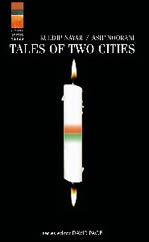 Excerpted with permission from Tales of Two Cities by Kuldip Nayar and Asif Noorani.
Roli. Pages 128. Rs 295.
The journey to Pakistan
On September 3, 1950 we left for the Princess Dock and boarded the Scindia Steamship Company's S.S. Sabarmati.
My maternal grandfather, a widower, who had brought up four sons and two daughters after the death of his lovely wife, was shattered.
My mother, the elder of his two daughters, was a pillar of strength to him, and here she was grief-stricken on board a ship, which was to take her, her husband and their kids to an unknown destination.
In those days, film songs were played on the ship and before the ship steamed out of the harbour singer-actor Suraiya's popular ditty "Ab hum na mil sakenge, tum hum ko bhool jao" was played.