Young World
Placement boost for CT students
Tribune News Service
Jalandhar, November 27
Shriram Value, a leading IT and BPO services company, has chosen CT Group of Institutions as its active centre for placements.
The firm will recruit students of the group and arrange various activities related to human resource development on the campus.
Under this liaison, the company will hold job fairs, seminars and classes offering recruitment tips to students at regular interval.
Shriram Value awarded the active centre certification to Prof Manhar Arora, director of corporate relations and placement, CT Group of Institutions, Jalandhar.
Save environment


Starry Dreams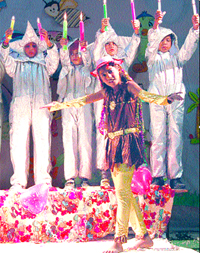 Students of the St. Soldier School enthrall audience during the annual function in Jalandhar on Thursday. Photo: Suryakant
Tiny-tots of St Soldier Divine Public School, Kapurthala Road, on Thursday celebrated "Save animals, save environment day".
A cultural programme on conservation of the environment and save animals was held.
The children, dressed up as animals and flowers, presented various items with the message to preserve environment and mother nature.
St Soldier Society vice-chairperson Sangeeta Chopra was the chief guest on the occasion.
Varsity toppers
Komaljyoti, student of advance diploma in cosmeto- logy at the Prem Chand Markanda SD College for Women, stood first in the Guru Nanak Dev University examination by securing 176 marks out of 200.
Video world
HMV College added another feather to its cap by introducing video-conferencing facility on the campus. The department of computer science and IT organised a lecture on "network protocols" by using the facility. Meanwhile, WIPRO picked up 25 students of the college during a placement drive.
Religious trip
Students of Government Secondary School, Bundala, organised a two-day religious-cum-educational trip to the various gurdwaras of Ferozepore, Muktsar, Jaito and Damdama Sahib.
Students witnessed an impressive retreat ceremony of the Indian and Pakistani troops at the Hussaniwala border.
Appreciation day
Apeejay School, Tanda Road, on Thursday celebrated its annual appreciation day based on "Vasudhaiv kutumbkam - the world's a family". A cultural dance was presented by students on the occasion.
Best science model
The science model of CT Public School, "Innovations of biotechnology", won the first prize at the Science Fair-2008 at DAV College, Jalandhar.
Martyrdom day observed Celebrating unity in diversity, the faculty and students of Trinity College, Jalandhar, observed the Martyrdom day of Guru Nanak Dev on November 24.