Visitors put to the sword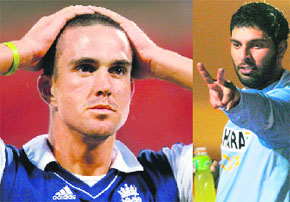 Abhijit Chatterjee
Losing four matches on the trot, and the series, to India must have been traumatic for Kevin Pietersen and his men, who had come to the country after an emphatic win over a solid South African squad. Not that England was expecting an easy time in India. The visitors knew that touring India has been traditionally an arduous task, and this time more so as Team India had just put it across the mighty Australians, albeit in a Test series.
Pietersen's men have had no answer to Yuvraj Singh's (R) magnificent form in the ODI series. Photos: Reuters

The last man standing
Vaibhav Sharma
An astounding build notwithstanding, his smile is a big give away. He might look like someone who would have a problem or two if approached for a post-match interview, but the moment you fall in his eye line, a warm smile melts any cold thoughts built up.