M A I N N E W S
A fond farewell to men who led from the front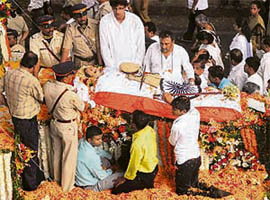 People pay homage to ATS chief Hemant Karkare during his funeral in Mumbai on Saturday. — Reuters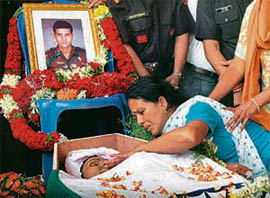 Mother of Major Sandeep Unnikrishnan, who was killed at the Taj, has a last look at her brave son in Bangalore on Saturday. — PTI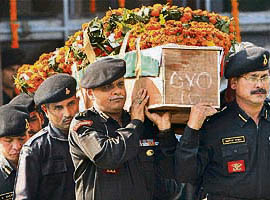 NSG officials carry the coffin of havildar Gajendra Singh, who died fighting terrorists, at the NSG headquarters in New Delhi. — PTI
Mumbai/Bangalore, November 29
Thousands of people today poured into streets to bid a tearful adieu to the bravehearts ATS chief Hemant Karkare and Major Sandeep Unnikrishnan who sacrificed their lives while taking on the militants in one of the bloodiest terror attacks in the country.
Slogans of 'Bharat Mata Ki Jai' rent the air as the last journey of Karkare, who was among the 15 Mumbai police personnel killed in the 60-hour siege that began Wednesday night, started from his house in Shivaji Park Central Mumbai this morning.
Police personnel slow marched leading a huge procession with Karkare's picture on a flower-decked vehicle carrying his mortal remains that crawled through the Mumbai streets to reach Dadar crematorium where last rites were performed with state honours. His only son accompanied the body.
Chief Minister Vilasrao Deshmukh, his cabinet collegaues, MNS chief Raj Thackeray, BJP's Nitin Gadkari and others leaders and top officials were also present.
Karkare, a 1982 batch IPS officer, became the head of ATS in January this year following his return to the state cadre after serving seven years in Research and Analysis Wing (RAW) in Austria. He is survived by his wife Amruta, two daughters Jui and Sayali and son Akash.
In Bangalore, which is mourning the loss of NSG Major Unnikrishnan during the operations to flush out terrorists at the Taj hotel, the scenes were no different.
The mortal remains of the 31-year-old, wrapped in Tricolour were laid before a framed photograph of the hero and people - friends, leaders, colleagues, family and strangers, filed past with bent heads and folded hands.
Grief stricken family members, friends and others broke down as Unnikrishnan's inconsolable mother sat close to his body caressing her son, repeatedly touching his forehead.
Ordinary people lined up the street, crowded on roofs and balconies and at some places threw flowers at the vehicle carrying Unnikrishnan's body. People were seen stopping their cars and standing out to pay their respects.
Born on March 15, 1977 and the only son of retired ISRO officer K. Unnikrishnan, he had joined the National Defence Academy and was commissioned in 1999.
He joined the NSG on deputation in January 2007 after having served two tenures with his battalion in counter insurgency and counter terrorism roles.
Body of another NSG commando Havaldar Gajendra Singh who was killed during the operations at the Jewish centre, Nariman House was brought to NSG headquarters in Delhi on the way to Dehradun where last rites will be performed.
In the absence of NSG chief who is still in Mumbai overseeing the operations, floral wreaths were place on his behalf as well as home minister, Lt Gen of 10 Para battalion of Army, his parent force.
Yoga Guru Swami Ramdev and M S Bitta also came to offer their tributes to the martyred soldier. The body was later flown to his native village Ganeshpur in Dehradun. — PTI