Up, close & personal with microbes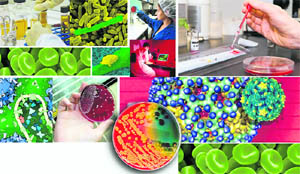 Life on this planet would soon come to a grinding halt if there were no microbes. Learn to study their growth, development and behaviour and control and utilise them for the benefit of living beings
WE read regularly about and know that microbes are the cause of infectious diseases like flu or malaria. We also know that microorganism cause food to spoil, but microbes are also a source of antibiotics that can cure us and are used for many beneficial applications.


Careercature
Sandeep Joshi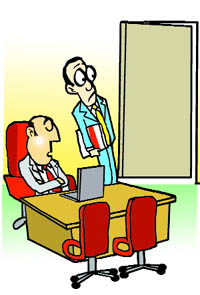 We must learn a lesson. If we ask for loyalty, integrity and efficiency, there will be no candidates!

Office Mantra
Creativity for life
Everyone who comes into the world has it. What matters is how you use it. I. M. SONI on the wonder tool, creativity
EVERYONE has a gold mine between his ears. The important thing is to realise it and exploit it. At work, it is the ability to think up new ideas that helps solve problems. It is vital that among men with equal intelligence, the highest salaries go to those with the most ideas. William Damroth in How to Win Success Before 40 says idea-ability is the secret of success in business, jobs and careers.
Being Boss
The T-factor
Trusting your team will encourage it to outperform itself and can be a great step towards success
WHILE fair pay holds the key to keeping an employee happy, there is so much more the workforce looks for  — feedback, training, active participation, having a say in matters, control and above all, trust and a feeling of being needed. Even though most companies realise all this, there are many who still do not give these matters the attention they deserve.
Food for Thought
Meltdown may raise stroke risk
THE current economic situation can elevate some individuals' chance of suffering a stroke, a leading expert has said. According to Dr Aric Sigman, an associate fellow of the British Psychological Society, watching coverage of the credit crisis on the evening news can add to the risk of suffering real mental and physical health problems, including stroke and suicide.
Course chat
Autonomous learning scores
RESEARCH proves that a student-centric approach in the classroom can improve both learning and examination results. Learning autonomy is the ultimate goal of student-centric learning. Not quite the same as 'independent learning', which focuses on the individual, autono-mous learning applies to groups as well as individuals. Autonomous learners take responsibility for their learning and develop strategies that enable them to learn both on their own and collaboratively.

Career Hotline
Yes, you are eligible
Q. Are B.Techs eligible to take the JEST exam whose notification has just appeared in the papers? I am very interested in astronomy. How can I prepare for the test? Are there any Indian astronomy magazines one could refer to?
Bits & Bytes
Investing in future leaders
SAMSUNG Electronics has announced a global scholarship programme (GSP) for Indian students. The programme, which provides Indian students with an opportunity to study MS/MBA at prestigious universities in Korea, also provides the selected candidates with an opportunity to work with the company in Korea.