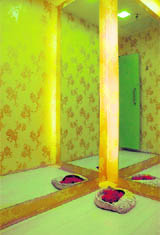 Try try again
From pigeonholes to theme-based rooms with LCD screens, trial rooms have certainly evolved
Once upon a time…(and not very long ago) there used to be dingy 6x4 feet rooms that were enough to give even pigeons claustrophobia. Mind you, we aren't exaggerating. Agreed, that all one had to do there was see whether an apparel fitted or not.
Fast forward, 2008. Change rooms, fitting rooms or trial rooms, call them what you may, what does not change is the fact that the place where shoppers spend half their life (and happily so!) has undergone the proverbial sea transformation. And what a transformation! Enough to make anybody feel like an emperor. At least, the ones in city seem to be saying so, rather screaming so.


Pink paradise:

At Meena Bazaar, they seem to know what a girl wants! — Photo by Parvesh Chauhan


Apparel assistance
Forget choosing garbs from the shelves yourself. A fashion stylist at an apparel store can help you pick the best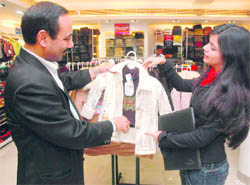 Clothes sure make a man. Dress a monkey in an Armani suit and he would also pass as a hunk. Having evolved from cave dressers to a fashioned breed of men and women, clothes sure have changed the way we look. And taking this obsession of wearing it right to flaunting it precise, are some of the big brands, who have engaged stylists and people from fashion schools to make sure you look perfect from head to toe.


Suit your style:

Stylists help customers pick what meets their needs — Photo by Parvesh Chauhan


Handling hyperactive kids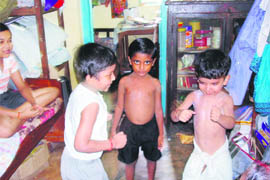 Do you find your child is always bursting with energy, is restless and agog to get into some kind of activity, which after exciting his interest for a while, again leaves him disinterested? Then it's a wake up call for parents, for this is much more than overactivity.
Sample this:  A couple of weeks ago, Saket was always on his toes, burning his energy. His erratic behaviour was a cause of concern for his mother, Simran. His friends used to call him Jumping Jack.
Watch out, little couch potatoes
Lots of TV, video and web surfing is harming kids' health, according to new studies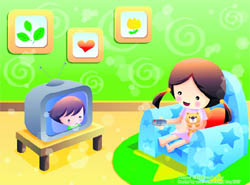 Spending a lot of time watching TV, playing video games and surfing the Web makes children more prone to a range of health problems, including obesity and smoking, US researchers have said. The US National Institutes of Health, Yale University and the California Pacific Medical Center experts analysed 173 studies done since 1980 in one of the most comprehensive assessments to date on how exposure to media sources impacts the physical health of children and adolescents.
Too much of tube
Kids as young as three are so addicted to technology that they themselves turn on the TV and watch it for over nine hours a week, a study has found. The Longitudinal Study of Australian Children has found that one-third of kids regularly watch TV during meals.
Mane winner
It is no more a barber's job, says hair stylist, Ishani Nanayakkara, who recently won a gold medal at the Cup Open India.
If not for anything substantial, celebs even make news for their hairdos in reel or real lives. Of course, Aamir Khan tops the list for his ever-changing mane looks, followed by the likes of Priety Zinta (who can forget her Barkha Dutt-inspired look in Lakshaya) or Priyanka Chopra (her red hair in Love Story 2050). Of late, Mandira Bedi and Sonali Bendre are sporting unconventional hairstyles. And, if you thought that they were weird then ask Ishani Nanayakkara, city-based hair stylist, who will promptly term it as an 'innocent mess'.




Ishani Nanayakkara — Photo by Himanshu Mahajan

Old faces, new works
Realism scores over abstract art in this painting exhibition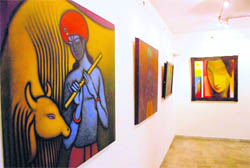 It's been quite sometime since we received an invitation from Art Folio-9. So, when it finally came, we couldn't wait to get there. All the more, because the names of the participating artists read familiar — Shyamal Mukharjee, Subuddah Ghosh, Asit Sarkar, Bratin Khan along with a few new additions — Balaji Ubale, Jagannath Paul, Swapan K Palley and Puja Bahri. The new artists' works were added to give the show a national flavour, we were told. However, the familiar works of Shyamal and Subuddah were enough to bring out a feeling of nostalgia in us.

Write to renee
No Commitment
I am 26 years old girl in relationship with a 36 years old man. He was married for a brief period earlier but has been single for many years now. We started as good friends as we work in the same office but now we are in a romantic relationship. I asked him if we could get married but he says he is not mentally prepared for this yet. He says he still hasn't gotten over his past experience.
Pet theory


Pecking order
When you brought your new puppy home, you had visions of sweet soft puppy kisses and gentle play. The problem starts when he nips at your skin and tries to take off your finger when you offer him a treat. Sounds familiar? Are you beginning to think you should have named your new puppy Jaws? Don't despair, you can teach your new puppy that his little puppy teeth, should never come into contact with human skin and only gentle amount of pressure should be applied when accepting a treat from your hand.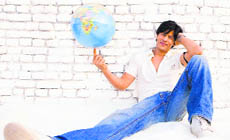 Shahrukh speaks, at last
Though late in the day, SRK finally voices his concern on terrorism, communalism and more
Expessing "anger, disbelief and sadness'' over the massive loss of lives in the November 26 terrorist strikes in Mumbai, Bollywood superstar Shahrukh Khan has called for removing the spirit of communalism from any kind of religion.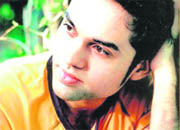 Commoners & celluloid
Many actors donning common man's mantle
Superstar Shah Rukh Khan in the upcoming film Rab Ne Bana Di Jodi plays a gawky middle class man, a far cry from the suave romantic characters - Raj and Rahul that he has portrayed in a majority of his films.


Abhay Deol loves to play unconventional roles

Waterside wellness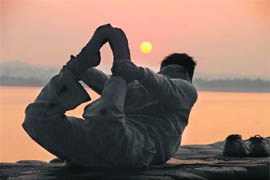 Early bird catches the posture. A man makes the most of the sunrise serenity at Sukhna Lake to practice his asanas on Wednesday — Lifestyle photo: Vinay Malik
Girl sans glamour
Model-turned actor Neha Dhupia, who had once said that only sex and Shah Rukh Khan sells in Bollywood, now wants to shed her glamourous image and turn her attention to acting in serious films.
More of Mamma Mia
American actress Meryl Streep has revealed that she would love to do a Mamma Mia! sequel. Streep was quite a hit with her singing, all-dancing role in the movie, and she is keen to do a follow up of the movie, which is based on the songs of Swedish band ABBA.
Desperate to be director
George Clooney was desperate to wear director's hat for new political movie Frost/Nixon - but was turned down. British writer Peter Morgan revealed that Hollywood heartthrob Clooney asked to direct the recent film version of his play. But instead of picking Michael Clayton star, Peter chose Ron Howard, who had success with films such as Apollo 13 and A Beautiful Mind.
Look who's speaking!
The former Spice Girl, who is often chased by the paparazzi, revealed that she took extra measures to save herself and her family from the lens, including keeping at bay from star-studded events and restaurants.