THIS ABOVE ALL
The funny side of people
Khushwant Singh

AT times I marvel at my naivete. I read the morning papers carefully but find nothing very amusing in the news items. But no sooner the same items are reproduced in Private Eye of London in its column 'Funny Old World', I see their funny side. This one was on the prevalence of belief in numerology in India. Numerology is one of those superstitions like astrology, Vastu, Feng-shui, gemmology and many others which has several takers, even among the highly educated.
They believe if you change the number of your house, or add an extra letter or two to your name, your fortunes will take an upward swing. I have two names in mind— Jayalalitha added an extra 'a' to her name to become Jayalalithaa; so did Shobha De to become Shobhaa. There is no evidence of their benefitting by the additional 'a'. Perhaps it improved their digestion and reduced gas in their bellies. Only they can tell.
But this news item which appeared in The Hindustan Times of September 18 this year is about belief in numerology in Bollywood, which is singularly asinine in its belief in the occult. It reads: "It is true there is no scientific proof whatsoever that numerology actually works", film producer Vipul Amrutlal Shah admitted to reporters at a studio in Mumbai, "but it is a vital science here in Bollywood. Every studio nowadays employs numerologists to add, subtract, or rearrange the letters in film titles, and in the names of actors, so that they are astrologically sound, because this is a high-risk business with millions of dollars at stake. That's why I support plans for Bollywood to open an official school of numerology to train practitioners, just as we train our directors, actors and film-makers."
Numerologist Sanjay B. Jumaani then explained how the science works. "I was recently asked to advise on the title of a film called Singh is King, and told them to add an extra 'n' so the letters added up to a lucky number. They did so, and Singh is Kinng grossed $15 million in its opening week.
"I also had success by adding an extra 'r' in Krrish and two extra 'ys' in Heyy Babyy. So my record speaks for itself. Yet, incredibly, there are no schools devoted to numerology, and training currently all depends on personal experience. So you see, it is not madness. My success rate with movies is over 80 per cent, and while my scientific expertise cannot turn a bad film into a box office hit, I can at least guarantee to reduce losses".
Pratibha Prahlad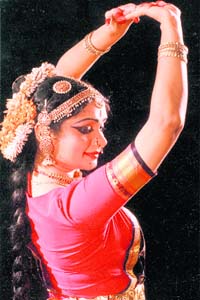 Noted Bharatnatyam dancer Pratibha Prahlad has re-emerged on the scene as the organiser of the Delhi International Arts Festival
About seven years ago R.K. Hegde asked me over for dinner in his MP's bungalow in Delhi. I had enjoyed his hospitality in Bangalore when he was the Chief Minister of Karnataka. I held him in high esteem and felt that he would one day be the Prime Minister of India. I was eager to keep up with him.
We were having our first drink when a young lady with two-year twins glided in. The boys seemed to know their way around the house and trotted off indoors. Hegde introduced me to the lady, Pratibha Prahlad, Bharatnatyam dancer. I had seen her pictures in the papers and read about her performances in India and abroad. Hegde didn't have to say anything more about her. I got the unspoken message. He wanted me to write about her in my columns.
I saw Pratibha dance in the India International Centre. She was part of a troupe. So I could not gauge the quality of her performance. Thereafter, I saw her a few times with her sons in Lodhi Gardens. When age made me home bound, I lost track of her. Now she has re-emerged on my horizon as the organiser of the Delhi International Arts Festival.
She is the founder-president of Prasiddha, which will coordinate dance, music and stage performances for three weeks in December in different venues of the city. She has managed to get about 50 countries to send artistes to participate in the celebrations.
It is a huge undertaking needing a staff of coordinators, cooperation of state governments, Ministry of Tourism, cultural organisations like the ICCR, various akademies, foreign embassies, hotels and patrons of arts. And lots of money.
It is sad to see that though India has taken giant strides in developing its economy and has advanced in scientific research, it does not have a modern theatre exclusively meant to stage plays or orchestral performances, which need the latest acoustic equipment. We have to make do with auditoria meant for lectures and showing films. I hope Pratibha Prahlad will also become the pioneer of permanent theatres in the country.
Power of prayer
In a small town in India, a person decided to open up his bar business, which was right opposite to a temple. The temple and its congregation started a campaign to block the bar from opening with petitions and prayed daily against his business. Work progressed. However, when it was almost complete and was about to open a few days later, a strong lightning struck the bar and it was burnt to the ground.
The temple folks were rather smug in their outlook after that, till the bar owner sued the temple authorities on the grounds that the temple, through its congregation and prayers, was ultimately responsible for the demise of his bar shop, either through direct or indirect actions or means. In its reply to the court, the temple vehemently denied all responsibility, or any connection that their prayers were reasons to the bar shop's demise.
As the case made its way into the court, the judge looked over the paper work at the hearing and commented: "I don't know how I am going to decide this case, but it appears from the paper work that we have a bar owner who believes in the power of prayer, and we have an entire temple and its devotees that don't ".
— (Contributed by Vipin Buckshey, New Delhi)