Grow up with growing pains
Dr Vivek Sharma
Eight-year-old Saloni can't fall asleep because her legs hurt. Six-year-old Aryan wakes in tears, with the same complaint. Coincidence? Probably not.
Between the ages of two and 12 years, children go through a growth spurt period. Along with this transition, may be discomforting symptoms such as aches and pains but when children stop growing, or when the teenage arrives, these pains tend to stop.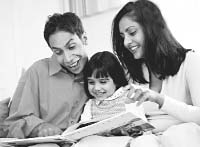 Growing pains typically end by teen years. No firm evidence shows that the growth of bone causes pain
An estimated 15 per cent of children experience occasional night-time leg pain without an apparent cause, often called growing pains. It can be a frightening experience for the children, especially when there is a combination of dark, quiet and pain.
Growing pains aren't a disease. In fact, the term "growing pains" may be a misnomer because there is no evidence that growth hurts. Still growing pains are real for many kids. It's important to take your child's complaints seriously. Occasionally, growing pains may be due to an underlying condition that can be treated. Growing pains typically end by teen years. No firm evidence shows that the growth of bone causes pain.
Some symptoms:
Aches or throb in the legs, concentrate in the muscles rather than the joint.
loften in the front of thighs, the calves or behind the knees.
lusually both legs hurt, occasionally the muscles of the arms may be affected; the child may also complain of headache.
Aggravating factors
Running, climbing and jumping can be hard on a child's musculoskeletal system. Muscle pain at night after a child has had an intense athletic day is the most likely cause of growing pains.
Diagnosing the causes
See how child responds to touch while in pain. Kids who have pain from a serious medical disease don't like to be handled because movements tend to increase the pain. But those with growing pains respond differently; they feel better when they are held, massaged and cuddled.
When to seek medical advice
lConsult your doctor if you are concerned about your child's leg pain or the pain is persistent
lStill enough to interfere with child's normal activity
lAccompanied by other signs such as swelling, redness, tenderness, fever, limping rash, loss of appetite, weakness or fatigue.
Help the child
There is no specific treatment for growing pains but you can help ease your child's discomfort.
lRub your child's legs. Some children respond to gentle massage. Others feel better when they are held or cuddled.
lStretch your child legs during the day and again at bedtime.
lUse a heating pad. Heat can sooth sore muscles.
lTry a pain-reliever. Offer your child Ibuprofen or paracetamol. Avoid Aspirin tablet.
It may also help the child if you simply offer your support. Remind your child that growing pains are normal. Support and reassurance that growing pains will pass as kids grow up can help them relax.
The writer is a consultant paediatrician at Rungta Hospital, Jaipur