For them, impossible is nothing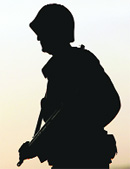 WHEN deadly terrorists struck the bustling city of Mumbai bombing buildings, opening fire in public places, setting ablaze luxury hotels and taking innocent people hostage, the country turned to the only force that could contain the extremely dangerous intruders — the highly professional Black Cat commandos. The Bombay Police had fought hard and bravely but had neither the ammunition nor the training to deal with the heavily armed terrorists. With stealth, efficiency and commando strategy, the special forces called in from Delhi not only risked their lives to save many others in Operation Black Tornado, but also won a big place in our hearts and minds.


Careercature
Sandeep Joshi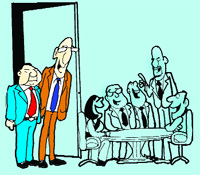 At a time of economic slowdown and cost- cutting, we have appointed a Manager (jokes) to keep everyone in good humour!

Career Hotline
Sorry, you don't have a choice
Q. I am a student of degree third year but I failed to qualify in two subjects for which I have to spend one more year that will be a waste. Meanwhile, I would like to go for my postgraduation. Is there any such provision in universities that provides PG course while pursuing graduation?
Evolution of Personality
Achieving a pleasant & well-rounded persona is a never-ending process & needs continuous inputs, writes C.K. SARDANA
HOW does one keep fit? Through continuous input of right food, activity, rest and a cheerful disposition. And how does one keep oneself up-to-date and updated at any point of time? Through continuous inputs of right and focused reading, viewing and listening.
IIM students think beyond big pay cheques
THE IIM-Lucknow student community, in association with Tata group, announced the launch of their International Business conclave - Manfest 2009 with the opening of their online portal, www.iimlmanfest.com. This edition of Manfest is woven around the theme 'Sustainable Development – Fuelling the Future', which finds much of its relevance in today's world wherein there is a heightened awareness of bolstering current growth while reinforcing future prospects.
Food for thought
Long talks may impair memory
STRUGGLING to remember the name of the flower with thorns that's your girlfriend's favourite? Well, for all you know it could have something to do with your long talks with her – and the others — over the cellphone! In the study involving rat models, researchers from the Division of Neurosurgery, Lund University, in Sweden had found that microwave radiation from cell phones could have an adverse impact on memory by affecting the so-called blood-brain barrier.
OFFICE Mantra
Get the raise you deserve
Asking for a pay raise is neither easy nor guaranteed, especially in current times. R.C SHARMA lists some guidelines that can better your chances
THESE are troubled time. Businesses have slowed down and downsized and pink slips are getting commoner, but you have worked in the same position for a few years and your salary just doesn't sound attractive enough. You need a salary raise – even the boss had promised to reward you when you performed exceedingly well. Asking and getting a raise was never easy and no difficult than it is currently. If the company is downsizing, most employees don't want to be the person rocking the boat and viewed as unsympathetic to the needs of the business. So, the question is how to go about it?
Educational institutions under scanner
THE Income Tax department has increased scrutiny of educational institutions following its own report that said educational institutions, among various sectors, had indulged in huge tax evasion in the last fiscal.
If you don't educate here, pay tax
NON-PROFIT foreign educational institutions with branch offices in India can claim tax exemption only if they impart education here. The Supreme Court has clarified that the non-profit tag of such institutions has to be tested against India activities and not the calculation of income over expenditure to decide whether they are qualified for tax exemption.
The mouse turns 40!
ONE computer device could be called as being most 'in touch' with humans — the mouse — which recently celebrated it's 40th birth anniversary. The first computer mouse, developed four deca-des ago, was a little wooden box with a single red button on top and a wire hanging from the back, because of which it was likened to a rodent.
Post-26/11, firms tighten verification process
AMIDST unconfirmed reports that some employees of Hotel Taj could have colluded with terrorists, companies have started stepped up employee verification procedures, especially for sensitive positions. Now, candidates who have got themselves verified are likely to stand a better chance of landing a job.
Laser printers pollute office air
IF you thought the laser printer in your office was totally harmless, here is news. A team of German and Australian researchers has unearthed evidence that laser printers release chemical particulates into the air.