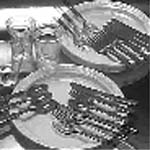 WE all know that due to excellent thermal and mechanical properties, good suitability at dampening noises and vibrations, good at returning to their original shapes with the application of heat and also possessing electrical and magnetic properties plastics are becoming very popular. Plastics have helped to shape the world around us. They are incorporated into everything from heart valves to baby bottles and are virtually indestructible.
However, the same feature that makes plastics so versatile, also presents a major concern. One of the most pressing environmental problems is that of the constantly growing mountain of waste. Plastic is a material made up of one or more polymers. Presently, the main source of the chemicals needed to manufacture plastics is fossil fuels. Rising concern about the cost of fossil fuels, and their impact on the environment has resulted in a search for alternatives to petrochemical plastics, namely biopolymers and bioplastics.
Bioplastics are plastics manufactured using biopolymers, and are biodegradable. Biopolymers and bioplastics are often referred to as bio-based plastics and polymers, or as biodegradable plastics or polymers. Biopolymers are polymers which are present in, or created by, living organisms. These include polymers from renewable resources that can be polymerised to create bioplastics.
Biopolymers and bioplastics are not new products. Henry Ford developed a method of manufacturing plastic car parts from soybeans in the mid-1900s. However, World War II side-tracked the production of bioplastic cars. Today, bioplastics are gaining popularity once again as new manufacturing techniques developed through biotechnology are being applied to their production.
Bioplastics are a form of plastics derived from plant sources such as hemp oil, soy bean oil and corn starch rather than traditional plastics which are derived from petroleum. This is regarded as a much more sustainable activity, as it relies considerably less on fossil fuel imports and produces less greenhouse emissions, producing between 0.8 and 3.2 tonnes of carbon dioxide less per tonne of bioplastics compared to the same weight in petroleum-based plastics.
Many bioplastics are truly biodegradable and will degrade in commercial composting units. Some bioplastics will even biodegrade in the less aggressive conditions of a home compost heap. However, bioplastics can also be formulated to be durable. There is a need to promote plastics that are biodegradable, compostable and based on renewable resources which is set to represent the industry and provide a streamlined view on issues relating to the benefits of bioplastics.
In many areas, the technology is still relatively new and currently not as cost competitive with petroleum-based plastics, although that is quickly changing. However, bioplastics are already seeing some use in Europe. The most common end use market is for packaging materials. Japan has also been a pioneer in bioplastics, incorporating them into electronics and automobiles.
There are two methods being researched and used to produce plastics from plants. The first uses fermentation, and the second relies on the plant to become the factory for plastic production.
Fermentation, used for hundreds of years by humans, is even more powerful when coupled with new biotechnology techniques. Fermentation is the use of microorganisms to break down organic substances in the absence of oxygen. Today, fermentation can be carried out with genetically engineered microorganisms, specially designed for the conditions under which fermentation takes place, and for the specific substance that is being broken down by the microorganism.
There are two ways fermentation can be used to create biopolymers and bioplastics. Bacterial Polyester Fermentation – Bacteria are one group of microorganisms that can be used in the fermentation process. Fermentation, in fact, is the process by which bacteria can be used to create polyesters. The bacteria use the sugar of harvested plants, such as corn, to fuel their cellular processes. The by-product of these cellular processes is the polymer. The polymers are then separated from the bacterial cells. Lactic Acid Fermentation – Lactic acid is fermented from sugar, much like the process used to directly manufacture polymers by bacteria. However, in this fermentation process, the final product of fermentation is lactic acid, rather than a polymer. After the lactic acid is produced, it is converted to polylactic acid using traditional polymerization processes.
Also, genetic engineering can be used to create plants, such as soybean, specifically designed to be used as a raw material for the production of bioplastics. Thus, plants are becoming factories for the production of plastics. Researchers have already created a Arabidopis thaliana plant through genetic engineering which contains the enzymes used by bacteria to create plastics. Bacteria create the plastic through the conversion of sunlight into energy. The researchers have transferred the gene that codes for this enzyme into the plant; as a result the plant produces plastic through its cellular processes. The plant is harvested and the plastic is extracted from it using a solvent. The liquid resulting from this process is distilled to separate the solvent from the plastic. That is why researchers have been attempting to genetically engineer plants to act as mini plastic factories.
Improving efficiency is a major concern for the production of bioplastics. Currently, fossil fuel is still used as an energy source during the production process. This has raised questions by some regarding how much fossil fuel is actually saved by manufacturing bioplastics. Only a few processes have emerged that actually use less energy in the production process. Therefore, researchers are still working on refining the processes used in order to make bioplastics viable alternatives to petrochemical plastics. There are also concerns about how to balance the need to grow plants for food, and the need to grow plants for use as raw materials.
Agricultural space needs to be shared so researchers are looking into creating a plant that can be used for food, but also as feedstock for plastic production. Eventually, they are hoping to create the plant in a way which would restrict the plastic production to the stem, and leaves of the plant. This would leave the edible part of the plant plastic free which could be used as food, or as livestock feed and removing plastic from the remaining part of the plant.
Such project of bioplastics from plants will create new technology and jobs, expand opportunities for bio-based industries and agricultural suppliers, decrease our dependence on oil, strengthen the agricultural economy, provide new markets for farmers and marry new agricultural product development with sophisticated manufacturing skills and the knowledge to commercialize these projects. Need is to look at adding other low-cost agricultural ingredients to develop bioplastics.
The writer is from Department of Physics, S.L.I.E.T., Longowal