This Mumbai-based group of seven believes in presenting devised dramas which evolve through interaction among its members
Theatre connoisseurs of the city wouldn't have had it so good. The Mumbai-based group Working Title is here with two of their productions, 60 Seconds Deep and Mahadevbhai, on the invitation of the Durga Das Foundation. The group of seven, discusses devised form of theatre, the themes and yes, the two plays in question with us. Let's get going. There is hardly any art form that has not succumbed to the temptation of urban life. The former one, 60 Seconds Deep, premiered at Prithvi Theatre last October, too revolves around the same.

Deep-rooted love
Actor Deep Dhillon's take on Punjabi films
Sirf pagadi banan naal hi sardar ni bande, sardar has a walk and an attitude that are unmatched. This is how Deep Dhillon, an actor, who has seen the best of the film and television industry, defines a true sardar. And while he talks about the rapid corporatisation and huge market for Indian cinema, his passion and calling came with Punjabi film industry and reviving the khushboo of Punjab di mitti.

Director matters
To Katrina, it is of utmost importance who the director of a film is
Having worked with established directors like Vipul Shah, David Dhawan, Anees Bazmee and Subhash Ghai, Bollywood's reigning queen Katrina Kaif says although it is risky to work with new directors, she is open to the idea.

Moustache man: Cut out for role?
Mixed response to Shah Rukh's moustachioed look in Rab Ne...

For some female celebrities, Shah Rukh Khan's moustachioed look in much-awaited Rab Ne Bana Di Jodi has not made any difference in loyalty. Others, however, feel he is better off without it. Though this is for the third time that King Khan is sporting a moustache after Army and Paheli, he is receiving a mixed response for his 'ordinary man with moustache' look in Rab Ne Bana Di Jodi, releasing Friday.
Purana daur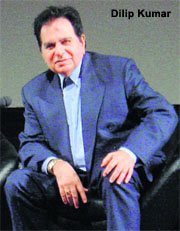 He may have bid adieu to films for over a decade now, but even at 86 the charisma of Dilip Kumar lingers
He is a ''Living legend'' of the Hindi film industry, having enthralled cinegoers for over five decades with a wide range of characters played in films traversing diverse genres. He may have bid adieu to films for over a decade now with his last screen appearance in Qila, but at 86, the charisma of Dilip Kumar still lingers. In his career, the veteran actor with his fine performances has earned a distinct place in the world of Hindi films. One of the greatest actors ever to grace the Indian silver screen, Kumar rid like a colossus in the Bollywood for over four decades, from the 40s to late 80s. His unique style of acting has inspired many upcoming actors and hopefuls but none have even remotely been able to match his natural one and only style.
Mystery unfolds
Raaz-The Mystery... deals with the issue of 'evil within'
Bhatt's latest thriller deals with the issue of 'evil within' and highlights superstitions and myths prevalent in the country today. The film starring Emraan Hashmi, Kangana Ranaut, Adhyayan Suman is scheduled for release on January 23 next year.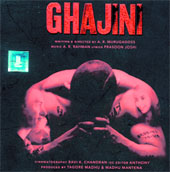 Hello TUNEZ
Sweet as well as powerful
Ghajini: Right now, all the focus is on the eight-pack that Aamir Khan flaunts in this movie, but it also boasts of some powerful music, courtesy A R Rahman who is in full flow here. There are only five songs (plus one instrumental version) but they cover the whole gamut form soft to foot-tapping. Each of them has it's own unique stamp. Many of the songs have a symphonic grandeur about them.
Side Lanes
An outraged Indian response
When future generations open their history books, two infamous images will assail their yet-to-be-formed-minds: the body of a young honeymooner, thrown out of Indian Airlines 814 and an ancient dome with what looks like a troop of frenzied monkeys doing a war dance. Kandahar and the Babri Masjid opened a new and grim chapter in our country's 'tryst with destiny'.
Launch PAD
It's in the jeans
Even after 150 years, the Levi's ® brand will not replace the button fly on its iconic 501 ® jeans with a zipper. One of the most distinctive features of the Levi's ® 501 ® jeans, the button fly gives volume where volume matters.
Cold comfort
Woodland is all set to woo its discerning customer with its elegant range of jackets and pullovers to wade you through the cold winters. Woodland's exclusive range of winter collection comprises of wide variety of sweater and jackets. The colours available include earthy hues of -brown, black, white, ecru, navy and fashion colours like fuchsia, purple and pink etc.