Bollywood's New Poster Boys
Derek Bose zooms in on the new crop of actors who may not have the looks, charisma or the fan following of the established stars, but are delivering hits that have made both the audience and their famous counterparts sit up and take note

After awards and accolades, which came with Split Wide Open, Mr and Mrs Iyer, 15 Park Avenue, Rahul Bose was described by Time magazine as the "Sean Penn of Oriental cinema"

We have had actors. And we have had stars. We have also had star-actors like Balraj Sahni, Sanjeev Kumar and Naseeruddin Shah. Others like Amitabh Bachchan and Saif Ali Khan could perhaps be called 'acting-stars', since they have already attained stardom and are only now concentrating seriously on their craft as actors. But what would you call the emerging crop of new-age heroes such as Vinay Pathak, Kay Kay Menon, Shreyas Talpade, Ranvir Shorey and Rajat Kapoor?
They, no doubt, are gifted artistes. But they have not been around long enough for audiences to gauge their versatility or histrionic strength in adequate measure. Moreover, they do not possess the looks, charisma or the fan following most established stars enjoy. Yet, they are showing up unfailingly in every other Hindi film hitting the screen these days. More often than not, they are being cast in pivotal roles, playing characters whose ordinariness is easy to identify with. Amazingly enough, they have been pulling off one major hit after another. In fact, they have become the most visible faces of Bollywood today.
Here are some such unlikely poster boys dominating the multiplex screens:
Ranvir Shorey
This Jalandhar boy took the television route (as a VJ) to films, debuting with Ek Chhoti Si Love Story 10 years ago. That was when the multiplex boom had just begun. Slowly but surely Ranvir has worked his way up through potboilers like Jism, Pyaar Ke Side Effects and Mixed Doubles. Recognition came with Bheja Fry, followed by Khosla Ka Ghosla and Traffic Signal. Today, Ranvir is known for his restrained acting, with a knack for comedy, thanks to films as diverse as Mithya, Ugly Aur Pagli, Singh is Kinng and Dasvidaniya. His next films lined up for release are with big banners, including Chandni Chowk to China, A Rectangular Love Story and Do Not Disturb.
Vinay Pathak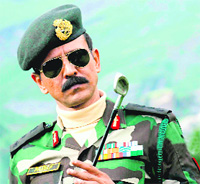 After Corporate, Life In a Metro and Drona, Kay Kay Menon is now one of the busiest actors around

He started out from Ranchi and arrived in Mumbai via an acting school in New York. Initially, he had to combine theatre with television while making brief appearances in films like Deepa Mehta's Fire (remember the guide at Taj Mahal?) and Sanjay Leela Bhansali's Hum Dil De Chuke Sanam. As with old pal Ranvir Shorey, the big break came with Sagar Ballary's Bheja Fry. Since then, audiences have been applauding him for his performance in Khosla Ka Ghosla, Johnny Gaddaar, Mithya, Khoya Khoya Chand`85 and of late, in the self-produced Dasvidaniya. Watch out for him next in Rab Ne Bana Di Jodi and Oh My God!
Shreyas Talpade
It took Farah Khan's box-office smasher, Om Shanti Om for Shreyas to outgrow the image of a deaf-mute that marked his debut in Nagesh Kukunoor's Iqbal. A Mumbai boy, he has been around for quite some time doing Marathi soaps and performing at stage shows across Maharashtra. After Iqbal, he has been seen in some little known films like Dor, Apna Sapna Money Money, Aggar, Dil Dosti, and Bombay to Bangkok. But he found fame and fortune as Pappu Master in Om Shanti Om and has since consolidated his position with Golmaal Returns and Welcome to Sajjanpur, which was directed by Shyam Benegal. He is now producing Kaande Pohe, a Marathi film, besides acting in films like Aashayein, Click and Paying Guest.
Rahul Bose
He cut his acting teeth on the stage, his first play being Tom, The Piper's Son. He quit his job as a copywriter with an ad agency after his first film English August became an international success. More awards and accolades came with Split Wide Open, followed by Jhankar Beats, Mr and Mrs Iyer, Thakshak, Chameli, 15 Park Avenue`85 prompting Time magazine to describe him as the "Sean Penn of Oriental cinema". In between, he tried his hand at direction with Everybody Says I'm Fine. His recent starrers include Shaurya, Tahaan, Maan Gaye Mughal-E-Azam and Dil Kabaddi. He is now working on his second directorial venture, based on Mohsin Hamid's novel, Moth Smoke.
Rajat Kapoor
Born in 1961, Rajat Kapoor is the senior-most among this batch of actors and wears many hats — ramp model, writer, director, producer and television anchor. He used to do theatre as well before making his acting debut in Dil Chahta Hai in 2001. For the best part of his career, Rajat has been part of a crowd (more like a character artiste) but with several important films to his credit — Monsoon Wedding, Kisna, Khoya Khoya Chand, Krazzy 4, Jaane Tu Ya Jaane Na, Dasvidaniya`85 His forthcoming major starrers are Raat Gayi Baat Gayi (which he is producing) and A Rectangular Love Story (which he is directing).
Kay Kay Menon
A management graduate from Pune University, Kay Kay is a rather late starter in films. He dabbled in advertising, theatre and television without success and eventually in 1995 packed his bags for Mumbai to play a religious fundamentalist in a badly made film, Naseem. Four years later, he shot into prominence with Bhopal Express.
From then on it has been a meteoric rise – Hazaaron Khwaishein Aisi, Deewar, Sarkar, Corporate, Life`85 In a Metro, Mumbai Meri Jaan, Drona He is now one of the busiest actors around. Watch out for him in Tera Kya Hoga Johnny, Stoneman and Gulal.
Irrfan Khan
A Jaipur boy, Irrfan earned a scholarship to learn acting at the National School of Drama, Delhi, and thereafter, moved to Mumbai in 1987. Following an extended stint in television (Chanakya, Chandrakanta, Saara Jahan Hamara, Darr), he moved to films with Ek Doctor Ki Maut and Such a Long Journey. Asif Kapadia's award-winning movie The Warrior brought him international recognition. Two years later in 2003 he got the title role in Vishal Bharadwaj's Maqbool, which was the turning point of his career. In the past five years, his most notable films were Rog, Yun Hota To Kya Hota, The Mighty Heart, Life In A Metro, The Namesake, Krazzy 4 and Mumbai Meri Jaan. His next releases are Billoo Barber, New York: I Love You and Bhopal Movie.
Parveen Dabbas
A Delhi boy, Parveen went to acting school in New York before bagging a role in Dillagi, followed by Mira Nair's Monsoon Wedding in 2000. Significantly, these two films set a pattern in his career, as he alternated between Bollywood and international productions. Over the years, he has built a rich body of work, ranging from The Perfect Husband and Muskaan to The Curse of King Tut's Tomb, The Memsahib, Breaking News, Khosla Ka Ghosla and Via Darjeeling. Unlike his contemporaries, Parveen maintains a low profile and is known to be selective about the films he signs. He will be seen next in The Good Friday and Alibaug.
The rise of these unconventional heroes may well be attributed to the current climate in the Hindi film industry, where every producer, distributor and exhibitor is driven by the numbers game – seeking high returns on low investments in the quickest possible time. These boys perfectly fit in the scheme of things as they are competent and come cheap. Moreover, most of the established stars have either out-priced themselves or severely cut down on work. Effectively, this is another way for Bollywood to catch up with Hollywood, where, at any given time, there are not three or four top-ranking stars, but at least a dozen heavy weights calling the shots.