Formula One's big bump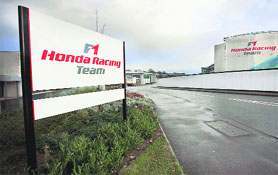 Honda could trigger a domino effect of manufacturers toppling out of Formula One unless costs are slashed dramatically, International Automobile Federation (FIA) president Max Mosley has said. "I have to say it was not entirely unexpected,'' the Briton told reporters after Honda announced they were pulling out amid slumping car sales and factory closures in the global economic downturn.
Tough Road Ahead: In view of the economic meltdown many feel that Honda might be the first of many casualties in Formula One. Photos: AFP

A win more personal than the rest
Donald Banerjee
Jeev Milkha Singh recorded the most emotional victory of his career in the Nippon Series JT Cup in Tokyo to climb up to the 36th spot in world rankings. This surpasses his best of 2006, when he was ranked 37th. His eyes were moist when Jeev dedicated his trophy from the last event of the Japan Golf Tour to his wife Kudrat who gave him the "confidence and determination" to go ahead and participate barely a few hours after delivering their first still-born child. He held aloft the trophy and said: "I will dedicate this win to my wife. She is healthy now and better things are on the way."
To my rival, with respect
When Rafael Nadal inflicted on Roger Federer an almost physically wounding defeat at Wimbledon in July this year, he actually delayed his return to the locker room until the Swiss player had left. Federer's sense of loss could be read in his countenance, which had the intensity of bereavement about it. Nadal who had already reined in his victory celebrations, did not want to intrude on his rival's very private grief.
IN THE NEWS
Saina on a roll
After breaking into the elite zone of top 10 players, ace shuttler Saina Nehwal also became the first Indian woman shuttler to be named as the most promising player of the year by the Badminton World Federation (BWF). The decision was taken in the council meeting of the BWF in Seoul on December 6, according to a statement issued by BWF Vice-President V K Verma. The 18-year-old Saina's name was proposed along with three other players by the World badminton players federation.
Battle for Europe
Didier Drogba helped Chelsea book their place in the knockout stages with a 2-1 victory over Romanian side CFR Cluj. A 1-0 victory over Anorthosis Famagusta ensured Greek club Panathinaikos a chance of finishing atop Group B in the Champions League. In other Champions League matches Tuesday, Inter Milan went down 2-1 to Werder Bremen. Roma secured top spot with a 2-0 win over Bordeaux.
MAIL
Boost for football
Diego Maradona is arguably the best football player the world has ever seen. His recent visit to India will go a long way to promote the cause of Indian football. He will inspire a lot of people, especially youngsters, to take up the sport and will also be of use to the game as he has offered to be Indian football's brand ambassador.