Amrapali: Buddha's gorgeous disciple
BURIED in the sleepy little village of Ambara in Bihar lies the legend of Amrapali, who was a rare combination of beauty and talent with unmatchable skills in classical art, greatly admired 25 centuries ago.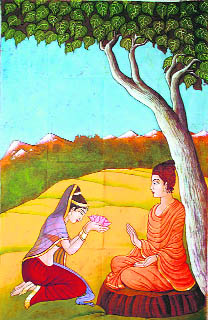 Amrapali formed an organisation called the Bhikhshuni Sangh, which established the importance of women in life and society

Amrapali, the celebrated rajnartaki (court dancer) in the ancient democracy of Vaishali, had attracted and influenced even Lord Buddha with her charm.
However, her story remains unnoticed for want of proper research.
Even after several steps taken by the Centre as well as the state government to boost tourism in Vaishali, the historical facts of her existence still lie buried.
An ambitious announcement made by the government to develop the birthplace of Amrapali into Amrapali Kanan still hangs in balance. The birthplace of Amrapali, now famous as Ambara village, is still to see the light of development.
The government had also announced to install a statue of Amrapali in the Amrapali Kanan.
However, the assurances proved to be an eyewash as nothing had so far been done.
Union Rural Development Minister Raghuvansh Prasad Singh, who represents Vaishali constituency in Parliament, has been endeavouring to shift the "urns" of Lord Buddha to Vaishali from Patna. However, Amrapali's potential of attracting tourists to the sleepy hamlet of Ambara still remains neglected.
According to historians, Amrapali, whose beauty had built and destroyed kingdoms, was born 2,500 years ago in a mango orchard in Vaishali. A feudal named Mahanaman of Vaishali, now a district on the bank of River Ganga, had traced the rare beauty of Amrapali when she was a child. Lured by the beauty of Amrapali, Mahanaman abandoned his kingdom and shifted to Ambara village, a small hamlet in Vaishali.
The historians opined that Amrapali was declared the "most beautiful" girl at the age of 11 and was later made nagarvadhu and Vaishali Janpad Kalayani. Soon after being conferred the title of nagarvadhu, Amrapali became the court dancer as per the rules of Vaishali democracy.
The charismatic beauty of Amrapali and her aesthitic sense had been noticed by Lord Buddha as well as the famous Chinese travellers Fahayana and Huen Sang.
Chinese scholors Fahayana and Huen Sang, who studied extensively on the democarcy of Vaishali, had also mentioned about the beauty of Amrapali.
In their book, they had discussed the existing rules of Vaishali, in which the most beautiful woman used to become the court dancer. As Amrapali was a rare beauty she was crowned with title of Janpad Kalayani. The age-old literature records that several kings use to camp around the palace of Amrapali only to be enchanted by her glimpse.
As the story goes, Amrapali, adorned with all ornaments, went to welcome Lord Buddha on his arrival at Vaishali after his enlightenment.
However, Lord Buddha, after getting a glimpse of the beauty of Amrapali, asked his disciples to close their eyes.
Historian R K Singh said Lord Buddha was very much aware of the fact that it would be difficult for his disciples to have spiritual control over themselves if they saw this earthly beauty.
Amrapali had also formed an organisation in the name of Bhikhshuni Sangh through which she earned name and fame by establishing the importance of women in life and society. This was considered a unique achievement of Amrapali, which later changed her profession and lifestylen of a court dancer. She had great love for classical songs and dance, which was a part of her life.
Attracted by the beauty of Amrapali, Emperor of Magadha Bimbisar had attacked Vaishali.
Fortunately before his formal attack King Bimbisar had a chance meeting with Amrapali and from there their courtship began.
Impressed with Amrapali's dance, King Bimbisar also introduced the system of rajnartaki in his court.
Amrapali and Bimbisar were blessed with a son who later converted himself into a Buddhist monk. — UNI