Going Places!
Tired of Kasauli and Pinjore? Here are a few nearby places you can explore on a winter weekend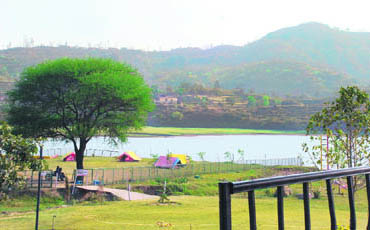 This is something that we all look forward to, irrespective of our professions - an extended weekend. When it comes, nothing is the same because it gets everybody raking their grey cells. The nearest spot they can hit, a spot, which is secluded and relaxing, a place that does not drain away the entire savings of the week are issues to ponder on.

The lush surroundings of Tikkar Taal

Shells, seeds and style
There are paper bags, tamarind seed bracelets and much more for the eco-friendly brigade at Chandikrit-2008
A balmy Saturday afternoon and a recee to the Handikrit-2008 at Parade Ground-17... shouldn't be a waste of time. Especially, if you are weighed down by issues like global warming, recession and pollution. Because, here you get to see and pick stuff that strongly advocates that 'environment is an issue of concern'.
Style with steel
Giving tough competition to melamine and plastic, steel is back on our tables, bar shelves and elsewhere

Stainless steel. It brings fond old memories, of clothes that mom would exchange for a chic bowl, of dinnertime when we would bang our thalis if dinner got late and of those glasses and plates that never broke, howsoever much we tried. And unlike the West, where steel is considered as ultra mod, here in India it is a thing of daily use, rather a downmarket thing.

BOWL(ED) OVER: Serve fruit in a steel bowl

Homecoming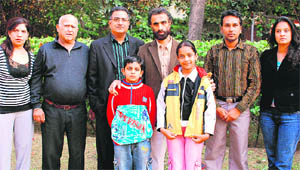 Theatreperson Gurdip Bhullar comes back to Punjab with a meaningful stage production
While the old adage "East or West, home is the best" may mean anything to anybody but for Gurdip Bhullar, a Surrey (Vancouver)- based artiste, home means Punjab. To be precise, a sleepy village called Tithon in Bathinda district.

Gurdip Bhullar and Co. at Chandigarh Press Club

Matka chowk


A Chandigarh Morning II
A road is like a river, full of big fish and small, some swim indeterminably - some forcefully and some never know how and where to swim. My morning watches are making me increasingly aware of an ethos - that harmony is not sought by most who are out on the roads - at least not in our city. Everyone here eats too well and is bursting with imploding energy (after all so much of Verka ghee has to have symptomatic manifestation). The mornings are also not spared.
Botox and beauty
The ooh's and ah's from admirers that some gorgeous faces of the glam industry invoke are with a significant contribution from the medical world. An imperfect smile or wrinkles screaming the age? This one medicine, Botox treatment, does it all to make the celebrity look charming. And those from the medical world describe it as the revolution in the beauty industry. The same was confirmed once again at a seminar organised by Fortis hospital on medical cosmetology on Saturday.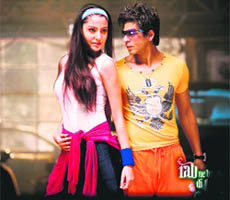 Picks & piques
Ode to ordinariness
When you are Aditya Chopra, you are bound to carry the baggage of gargantuan expectations. The man with the magic touch is back, after a hiatus of eight years, with his lucky mascot King Khan in the most eagerly awaited film of the year Rab Ne Bana Di Jodi.




Aditya Chopra's Rab ne bana di jodi stars Shah Rukh Khan, Anusha Sharma and Vinay Pathak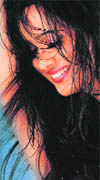 Mock tales
Copy, paste
Small screen is rife with big ideas which are essentially lifts from Bollywood flicks
So, after month-long lull, it's comeback time on Indian television. While 'Dreamgirl' Hema Malini returns as a judge in reality show Dancing Queen on Colors, Sambhavna Seth, the naughty girl of Bigg Boss 2 returns as a participant in the same show. The meanness returns with Roadies 6.0, Farhan Akhtar returns with another talk show Oye It's Friday and the 'Prerna' of small screen, Shweta Tiwari, returns with Jaane Kya Baat Hui. And, so returns the usual mirch masala on TV. Shweta Tiwari


Sarhad Paar
Pak artistes should be allowed in India, says Bollywood in reaction to Shiv Sena's move
Bollywood has criticised the Shiv Sena's decision to stop Pakistani artistes from performing in Maharashtra in the aftermath of the Mumbai terror strikes. But musicians like Gulzar and Aadesh Shrivastava feel ghazal singer Ghulam Ali, whose concerts in India were cancelled last week, should have chosen a better time.
Farhan Akhtar