TREND MILL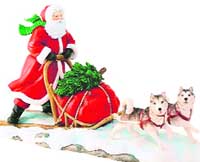 Hallelujah!
It's Christmas
Set aside religious inclinations & indulge. Do up your home, decorate a tree, exchange presents and feast on a rum cake!
YOU can feel the Yuletide spirit flow in arcades flooded with Christmas decorations. But you haven't taken the plunge yet. And the "raison d'ętre" behind the surge of reluctance is not really hard to fathom — the wave of terror from the sea has washed away the cheery mood for celebrations. Nothing wrong, you are simply flowing with the current. After all, the entire nation has fallen into grief; and you are no different.
Boost for Baddi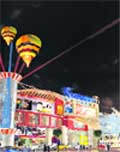 Realtors hail Central announcement to prop up housing sector, meltdown helps, too
THE concessions announced by the Union Government have rekindled hope among realtors in the region. The mood is upbeat in the Baddi-Barotiwala-Nalagarh industrial area, rated as cheapest in terms of market investment both among the metro-economy and emerging markets. Here, investment worth crores is at stake with nearly 1,500 flats were ready for sale.
Artist's view of a shopping mall coming up at Baddi.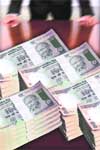 Tax tips
Make a FD, opt for TDS
Q. I am a resident of Ludhiana. We have three acres of agricultural land (jaddi-pushti) in a nearby village, which we want to sell. We will get Rs 50-60 lakh from this sale. I have been filing nil returns for last two years my salary is Rs 8,000. My father retired from the civil supplies department in 2007 and doesn't get pension. We want to invest this amount in FDs @ 10.5 % interest, which would work out to around Rs 5 lakh a year. I want your suggestion on the following:
n Stick to banking channels
n Deduct cost from sale amount
n 30% rebate on rent income
n Date of transfer matters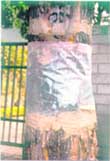 GROUND REALITY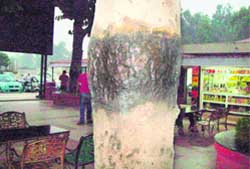 Pest control
The mango mealy bug threatens plants and trees and is also known to overrun homes. Once identified, it is simple to contain, writes Satish Narula
THE slogan 'each one plant one' is very relevant but it is more important to keep plants alive and healthy. This is possible only if we understand causes of anomalies in plant culture. And are you sure you are not causing more misery while protecting it? See the accompanying picture. I will explain it later but first the cause.
Grease band and polythene band (left) used to prevent mealy bugs from crawling up
the tree. — Photos by writer